The year 2018 was really good for wood and furniture industry technologies. The final figures processed by the Studies Office of Acimall, the Confindustria member association that represents industry companies, have driven up previous forecasts: 2018 closed with domestic production at 2.514 billion euro, up by 10.6 percent from the previous year. Definitely a significant result, the best in the past ten years, net of inflation, achieved with a first semester that was very positive on both the domestic and the export side, followed by a second half that basically maintained the same levels of June.
Also in 2018, the industry reaffirmed its propensity to cross-border sales, achieving an export value of 1.721 billion euro (plus 8.2 percent over 2017) mostly in the European markets, accounting for approximately 70 percent of total export, and in North America, mainly the United States.
The sales trend in the domestic market was excellent, very close to 800 million euro, 16.4 percent more than in 2017. Again, this is the best result in the past ten years, twice bigger than 2012, due to several factors: an inevitable rally of investments after strong stagnation in the crisis years, the recovery of made-in-Italy furniture production, and most of all the set of measures introduced by the Italian government for the mechanical engineering industry, especially those related to Industry 4.0. In the past few years, the Sabatini act offering loans for machinery purchase has been extended; the tax credit for R&D investments has been maintained; new measures like the so-called "Superamortization" and "Hyperamortization" (the latter extended also in 2019) for new equipment purchase; all these measures have offered significant financial benefits to companies.
Looking at import, in 2018 it amounted to 242 million euro: the top "supplier countries" were, in order of value, Germany, China and Austria, with growing import from India, Poland and Turkey.
The trade balance, i.e. the difference between export and import, amounted to 1.479 billion euro in 2018, up by 5.5 percent from 2017. Apparent consumption totaled 1.035 billion, with a 19 percent increase.
THE FIRST MONTHS OF 2019
So, it was a satisfactory year, but what are the early signals for companies in the current year?
According to the Acimall Studies Office, the first quarter 2019 showed an overall reduction of orders, which can be considered "inevitable" after the booming growth of 2017 and further expansion last year; moreover, at least on the domestic side, a "beneficial effect" will certainly come from the reintroduction of Superamortization in the "Growth Act" and the preservation of Hyperamortization to support the digital innovation process of companies and consequently their global competitiveness.
According to the traditional Acimall survey, the woodworking machinery and tools industry marked time in the first three months of 2019, with an 11 percent reduction of orders compared to the same period of the previous year. Orders from abroad decreased by 10.2 percent, while domestic demand dropped by 14.5 percent.
The book of orders is at 3.7 months, while prices have been growing by 0.5 percent since the beginning of 2019. Revenue figures are recording an opposite trend to orders, with a 10.3 percent increase.
The quality survey for the period under scrutiny reveals that 7 percent of the interviews indicate a positive production trend, 60 percent a stationary trend and 33 percent a slowdown.
Employment is considered stationary by 67 percent of the sample and increasing by 13 percent: only 20 percent reported a reduction. Available stocks are stationary according to 73 percent, increasing according to 20 percent and falling according to the remaining 7 percent.
Unfortunately, the forecast survey shows an enduring mood of distrust among industry players, both on the domestic and on the international side, whereby such mood is favored by all key macroeconomic variables that suggest that the minor positive rebound of industrial production in February-March was mostly due to stocks replenishment. This adds to Gdp growth forecasts at 0.2 percent, which is not enough to feed confidence…
The forecast survey results are clear: for the domestic market, only 7 percent expect growth, 60 percent indicate stability and 33 percent fear shrinking business (the negative balance is minus 26). More optimism on the export side: according to 13 percent of the sample, foreign orders will increase in the next quarter, while they will remain stable for 60 percent and 27 percent expect a reduction (negative balance -14).
BACK TO 2018: THE INTERNATIONAL SCENARIO
As previously written, in 2019 the leadership in the production and sales of wood industry technology was a competition involving Germany, Italy and China. German manufacturers sold machines across the border for 2.4 billion euro, with a 2 percent increase over 2017; Italy stopped at 1.6 billion euro, tools included, while China keeps narrowing the gap with "made in Europe" competitors, climbing up by 11.7 percent to 1,532 million.
Just a couple of notes. A significant share of German export is represented by primary operation technology: just look at sales figures for particleboard and mdf presses, amounting to over 400 million euro for Germany, versus 157 for Italy and 77 for China.
It is also interesting to notice that German expert is concentrated in five markets: the United States,
China, Poland, Austria and France account for 50 percent of all German export, while Italy has an extensive coverage of many markets.
The ranking of woodworking machinery exporting countries continues with Taiwan and Austria, respectively at number four and five. In 2018, Taiwan exported wood and furniture technology for 586 million euro, with a slight decrease from the previous year, mainly shipping to the United States and neighbor China. Austria closed 2018 with a sales volume equivalent to 505 million euro, up by 7.4 percent, mostly represented by trade with Germany, although we should not underestimate the business of few big Austrian companies that have a significant impact on the export value.
At number six and seven, the United States and Canada closed 2018 at 304 and 253 million euro respectively, followed by Poland (203 million), Finland (171 million) and Japan (132 million).
It is worth mentioning three more countries that, over the past five years, have been performing well: the Czech Republic has grown from 85 to 125 million, while Slovenia exceeded 100 million, up from just 58 in 2014. Also Turkey is strengthening its production system, despite political tensions in the past two years: the trans-European country exported machinery for more than 90 million euro in 2018.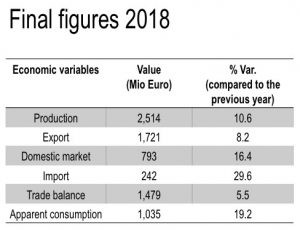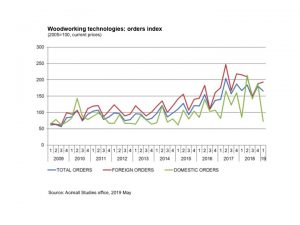 Final 2018 balance and first quarter 2019
ultima modifica:
2019-06-18T11:31:05+00:00
da