An event that sets new standards for product and business communications, and an opportunity to discuss with Raphaël Prati, Biesse Group Marketing & Communications Director, about the meaning and implications of this approach.
"During the lockdown, we launched a webinar series called "Tech Talk", focused on cross-industry topics, to deliver interesting contents through our digital channels, not limited to our specific sector. We involved many people in our company and we realized it was a big step, it could be the start of something new, maybe even an accurate reflection on our methods to communicate about our products, our business, ourselves. This is the origin of "Inside in action"…". That's the start of our interview with Raphaël Prati, whom we met on October 20 in Pesaro, searching for new ways to present the big event organized by the Pesaro-based group to present itself through digital and live events and stories.
"The experience of the first months of this year has left indelible marks in Biesse's communication schemes, exhibition activities, the search for alternative options to replace hundreds of visits we used to have in Pesaro and in our subsidiaries around the world. Just like the digital versions of newspapers are complementary to printed copies, and not substitutes, we have seen that the new approaches we have gradually developed in recent years – and especially in recent months – are very helpful and actually redefine the concept of communication quality. Every year, on average, we attended some fifty exhibitions and hosted thousands of visitors, plus some four thousand guests at "Inside Biesse" in October. A huge mass of contacts, meetings and relations that will still be subject to restrictions, limitations, additional costs and time… We have been suddenly projected into a new cultural dimension, a totally different situation on a global scale. Things have changed inside companies first, forcing every organization to focus immediately on the health of their employees and to adopt smart working for thousands of people overnight. Such change has been enabled by efficient organization and IT resources, as everyone had a laptop or tablet. We also changed our way of communicating and working together, achieving results we could not imagine. Not to mention the benefits of this type of relations for individuals when they switch from remote working, i.e. doing the same things they did before in a similar way, to smart working, i.e. reorganize time schedules and tasks to leverage the value of people and increase their responsibilities. How could we transfer this experience to our relations with the outside world? Even during the toughest weeks, we received many requests of contact, information and projects that suggested that the market had not disappeared, that people still had a strong need to discover new solutions. We immediately realized that we had to expand and enhance our range of digital tools, and we found out that such tools were perfectly suitable for some tasks (such as, selling an edgebanding machine), as we could deliver all the necessary information up to order placement".
Things are different for exhibitions and open-house events…
"Sure. Digital operations, effective as they can be, cannot replace physical events, but they can be complementary activities that increase the value of events. But we are talking about two different events: exhibitions generate contacts with new prospects and clearly define the positioning of our company compared to competitors, as we present us in a different way, while our open house is designed to "pamper" those who have chosen to work with us, dedicating time and attention to an extent that is not possible in an exhibition. That's why we have organized "Inside Biesse" also this year, completely revisiting the thirteenth edition and transforming it into a "hybrid" event to leverage all the benefits of digital activities. That's the genesis of "Inside in Action", offering a physical and a digital part.
The former is "Inside Live", staged in the showrooms "Wood & Advanced Materials" and "Glass & Stone tooling", where we will set up a 5-thousand-square-meter technology exhibition in full safety, featuring more than 40 machines, software and digital services for companies of any size. On the digital side, we launched "Inside Next", a real virtual "tech show" focused on technological innovation, product and process news, with exclusive contents and in-depths. And finally, "Inside Play", an agenda with over forty webinars and live demos from 12 countries, from October 26 to 30, accessible from any device. We managed to leverage the full potential of digital tools, creating a "Digital Arena", a container for all our online initiatives, featuring the same services that the Pesaro Campus offers to physical visitors.
With both approaches, physical and digital, we have reaffirmed our availability and support to customers, allowing them to access all the information they want to know. Let me say that we have achieved this result with no major investment, but rather by thinking about a new approach based on the changes introduced by Covid-19 and the consequent necessity to do better. This is our definition of "customer care", a total focus on the customer and his goals, independently of the tools, initiatives or options you need to deploy. We have implemented this strategy in a very short timeframe thanks to our ability to think in this way and to change quickly, and to the fact that we can rely on a solid organization".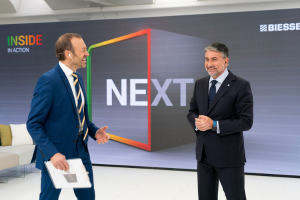 We dedicated the same attention, or maybe more, to those who could not join us in person, providing access to all the activities available in the Campus for an entire month, from 5 to 30 October, exactly like "real visitors" who had access for three days. With this approach, we are getting in touch with an unprecedented audience, with customers and resellers who would not have come to Pesaro anyway, and instead here they are now… at least in digital. And we should not forget that the platform also offers specific contents, webinars and live in-depths that will be available for the entire period of the event. A rich collection of speeches, conversations, a small encyclopedia that will help many people find their way through several topics and get a glimpse of domains that they normally would never consider interesting…".
What's next, Mr. Prati? It seems that we are now all eager to act urgently, to find a remedy at any cost to what has happened and will happen again. And then? How will this affect our "new normal"?
"This question represents all the challenges of our times. First of all, I think we have to look back and see where we come from to leverage the experience acquired and carry on, because one thing is certain: we will carry on! The Covid-19 pandemic has opened a new age, but it has accelerated a process that had already started. It is not a revolution: the real revolution was the acceleration of the transformation process we have been experiencing in recent years, at different speeds and with different levels of awareness. Maybe we could not realize how fast and how deeply our beliefs, our procedures, our methods had changed compared to five years ago. If we had not been forced, maybe we would not have realized that the investments made by the boldest and most innovative companies in recent years have enabled them to do more and better, going beyond their budget and industrial estimates. We have generated a necessary drive to a process of cultural transformation that we thought was developing in multiple directions, but then we found out we had opened the doors to infinity. Even the older generations have realized that their fear of the digital universe was unfounded, and instead, digital technology could help everyone find their own way. We have torn down barriers and learned to use new languages to do old things better, and this is just the start, because we believe, I believe that many areas of our current business can be changed again and again, for the better. Even exhibitions can come as a surprise, if we leverage the lesson learned without necessarily denying their role, i.e. a place where people can look into each other's eyes, walk along the same aisles, experience the same magical atmosphere…".
"Inside in Action", the transformation of business communications
ultima modifica:
2020-11-03T08:00:15+00:00
da