Giplast has never been so "fizzy", showing strong determination to be a leading actor in the complex world of edges, in this complex season.
"The past is gone and today Giplast is strongly oriented to the future, with an effective operating organization: even during the lockdown we continued to work and we tried hard to understand how we could make further progress!". It is clear that the climate is very positive in the Abruzzo-based company, renowned for their production of edges, Abs first. It is clear from the words by Patrizio Marozzi, sales manager and partner, whom we finally managed to interview on the phone, during one of his endless trips: with him, we have a traditional meeting on the eve of Sicam. And even this year we kept the promise to talk about Giplast and the edgebanding industry, although the exhibition in Pordenone has been cancelled.
"We have changed a lot, we keep changing", he said. "These months have been useful to think, to plan investment we launched last July and will continue until December, enabling us to focus our attention on training. We are continuing a project we undertook many years ago; we are now partnering with the University of L'Aquila and a few leaders to develop the skills of our employees, because product quality comes from knowledge, from the awareness of a company, from the capacity to apply the principles of "Industry 4.0". New, specific skills that help us create a more modern, connected and efficient company, controlling all production systems in real time, monitoring performance levels and reacting to possible issues very quickly.
As I said, this "strange" season has driven us to look deep inside our organization, to define our priorities, first of all environment, circular economy and sustainability. Now, Giplast is considering increasing the focus on the Uni En Iso 14001 standard and we must say that, eleven years ago, we built a plant to recycle all our production waste and minimize our environmental impact.
Talking about "green", I can tell you we are making a momentous change as a result of significant investments. For instance, we are eliminating solvent-based primers in our edge painting processes, switching to water-based products: in six-to-eight months, we believe we can cut our solvent emissions by almost 90 percent, while offering flawless quality".
Water-based coating is always a key topic…
"Definitely yes, but we all know how complex it is and how much effort is needed to achieve results that can compared with solvent-based processes. We started testing five years ago, five years of development, comparison, consulting, tests, partnerships with customers, ultimately leading to the results that, in the coming months, will be certified by a leading laboratory like Catas. We can finally certify the effectiveness of our finishing process, entirely based on water-borne coatings, with primers offering the necessary grip to ensure the quality, the finishing and the visual impact our customers are used to.
Not only: next January we are launching new polypropylene edges, resulting from a complex but essential experimenting process, as required by the peculiar features of this material. We know this product very well and we have tested it in collaboration with a few customers, and now we are ready to launch it officially. We are talking about "plastics" with similar features to Abs, the best "edgebanding material", but characterized by an energy-saving lifecycle and excellent recycling options using proven and safe systems".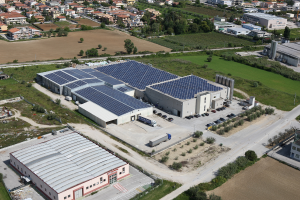 How does it feel living without exhibitions?
"Like everyone else, we have leveraged new communication and marketing tools. We can say we have digitized our operations, getting to talk with customers and suppliers in a different way but with the same effectiveness. Sure, the loss of human touch is a major hurdle, but we have managed to keep good relationships in terms of business and operations, although it is clearly much more difficult to establish new contacts; this was the main purpose of exhibitions and they can hardly be replaced in my opinion. Fortunately, having been around the world for forty years, there are not so many "unknown customers" for Giplast!".
In our previous interview, we tackled with the topic of super-matte coatings…
"I remember it well: excimer lamps to dry the coating is a technology we have been focusing on from the start, together with two German competitors. In this way, we have gained an advantage, increasing our visibility in certain areas and further developing this application. We have now created "Super-matte 2.0", where the product has an ultra-soft touch and very high resistance to chemical agents and scratching; the market is showing appreciation for such properties. This trend will remain very strong in 2021, so we are considering installing another plant to apply this kind of coating, which has subtracted significant market shares to standard and extra-glossy finishing…".
This is happening is a period characterized by a good level of furniture demand…
"That's true: the pandemic experience has led people to reconsider the value of their homes, and how pleasant it is to live in a comfortable and beautiful environment. Furniture has been experiencing a positive trend in recent months… I can tell you that 2020 had started off well for us, with a solid 7% increase compared to 2019. Coronavirus then caused a stop that has affected everyone, but after the toughest months we have gone back to pre-crisis levels and restored some stability, so we are now racing to keep up with many requests and commitments.
The cancellation of the Milan Furniture Show also caused a forced interruption in the proposal of new decors, new colors, new forms of furniture, and we are now basically working with the same colors of the past season.
During these weeks we are seeing some activity, and we believe new ideas will be launched soon, a few companies will introduce new decors, new "flavors" of living, and this will be another step towards a new normal, after excellent business results in July, August and September.
The increasing demand of furniture is directly supporting the growth of edge production, of course, although in recent years we have seen a trend toward thinner edges, which means that you have to produce bigger volumes to achieve the same revenues. Such gradual thickness reduction is more and more apparent in Italy and in Europe, combined with a preservation or improvement of quality standards".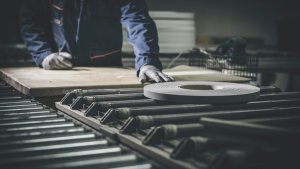 So, you are optimistic…
"Sure, although there are many, too many question marks. We have experienced tragic months, with a very heavy impact on the economy, on families, on our beloved ones. It's not over yet, and we will have to do our best to avoid facing many years of widespread difficulties. We must run even faster, be quicker and better at showing our creativity and our expertise. A few markets have lost relevance – Spain, France, the United Kingdom – but Eastern Europe is vital, as well as other markets where we are working with improving results, such as the United States and Canada.
We will all have to deal with the big topic of "reuse": whether it's furniture, components or materials, we must take into consideration a stronger focus on the environment, on resources, on energy consumption across a product's lifecycle. We will see lots of recycled materials, vegetal fibers. That's the future, it's about the capacity to make our products, our lifestyle, our desired more sustainable…
We have prepared in advance. If you allow, I would like to close with a memory of Giuseppe Ferrante, our managing director who passed away due to "Covid-19". He was a great person we will miss. His successor is Giovanni Gioli, a man with huge experience in the semifinished material business, who will help us identify new routes for Giplast".
by Luca Rossetti
"Being an enterprise": product, quality, safety
ultima modifica:
2020-11-12T08:00:15+00:00
da