So said Andrea Angonese, boasting longstanding experience in his family-owned company, today a symbol of the modern businessman character with his capacity of building relations, driving collaboration, making moves to reach the ultimate goal: providing customers with the technology they need. This is Angomac's vocation.
An old name for a brand new mission: getting straight to the point. This is the approach adopted by Andrea Angonese, just above 30, as he inherited Angomac, the company founded by his father in the Nineties. He chose to turn this heritage into his own business, radically changing direction while maintaining its original vocation, i.e. the production of primary woodworking machinery for sawmills.
"My father Alberto was the founder of Angomac", he said. "He had been working for many years for one of the most successful resellers of woodworking machinery in Veneto, who distributing sawmilling technology from the leading Italian, German and Austrian manufacturers, then he decided to create his own business. It was a classical family-owned company, with few employees, initially focused on the overhaul and resale of used equipment. This project proved very effective, as the company offered excellent machines, perfectly working, at very "interesting" prices: we worked very well in Africa, where each and every sawmill purchased some piece of equipment from us. In many cases we also supplied entire turnkey plants.
It's a beautiful story I have experienced in person, having joined the company when I was young: I managed the latest deals in Gabon and Cameroon, and Africa is still a market we are "familiar" with, although Chinese competitors have taken the lead in many situations. Today we are working differently, preferably with low-quality technology, 24 hours a day, with a chronical lack of skills that makes maintenance an option.
This evolution has combined with the fact that, three years ago, my father died, so I decide to review Angomac's strategies, starting to manufacture new machines, manual or automatic trimming saws, or cutting lines for pallet parts. We had done something similar before, but the overhaul business was so "generous"…".
Are you still working with the Angomac brand?
"Yes. Now I run the family business, but everything has changed radically: as I said, conditions have changed and it did not make much sense to keep knocking on the same nail. So I sold the workshop and decided to rely on suppliers we had known for a long time, entrusting them with the construction of machinery, repair and maintenance operations. I am in charge for everything that goes on outside the company: I know the markets, the sawmills and their owners. I meet them, I identify their needs, I imagine the machine or line that can match their requirements, we design it and, if we get the contract, I entrust the construction to our suppliers and the installations to our teams".
So, you are an expert of these technologies combined with sales skills and the capacity to manage the logistics of a company from A to Z, no matter how complex…
"Yes, as long as it is within my business scope! I purchase motors, parts, loading and unloading systems: if something is missing, I have it manufactured to order and then everything is assembled in reliable partner workshops, with which we have developed strong collaboration, I daresay complicity and sharing".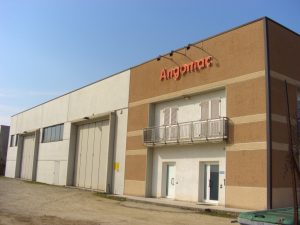 All of this with a focus on sawmilling…
"I'm fond of this business, it's a passion inherited from my father, it's about smell, wood, resin sticking to your hands and dresses. Maybe in Italy there are fewer sawmills than in the past, but there is still much to do. Think about our trimming saws: it's such a small market niche that few companies are interested in it, and moreover, within one hundred kilometers around us, there are scores of packaging companies, they are our target. You see, it's a very peculiar sector, strictly related to the land and the nature where wood grows, people working for 20-30 years with the same machine that must be undestroyable, never need assistance, other than blade resharpening. Simple but strong equipment where, like many other companies, we have added value by integrating keyboards, drives, touchscreen panels and Industry 4.0 controls, a technological evolution that has made our machines even easier to operate, offering higher performance and remote control".
Do you only work in Italy with the "new Angomac"?
"No, we also work a lot in Italy and we maintain contacts in Africa, though less than in the past, especially with hardwood sawmills. To tell the truth, we export almost our entire production, although it's not easy to operate in the global markets, because the sawmilling business is "old" and hard to change: it is not attractive to young people and it is hard to find good agents and labor. It's a hard job, often in "adverse" climate conditions. As a result, there is an increasing demand for more automated machines and plants.
Wood is re-conquering its position in constructions; this trend has been going on for years. In the coming years, I want to expand our catalog, adding new machines, still in the sawmill and primary operation segment".
 by Luca Rossetti
Angomac: "There are different ways to offer new technology…"
ultima modifica:
2020-12-16T12:29:20+00:00
da