Ivano Coveri, co-owner of Emc in Imola, introduced us to this company that can make innovation and offer machines "suitable" for all types of needs. Also in metalworking…
"All of a sudden we were thrown into a nightmare with the fear that it had no end," said Ivano Coveri, co-owner of Emc in Imola. "We soon realized that the situation was serious, and each day we wondered what would happen, if we could go back to work again, to promote our machines, to attend exhibitions. You all know the answers to these questions, while the world around us literally crumbled to pieces.
The first weeks in March were terrible, it did not take long to realize it would not be easy to solve the situation and we had to understand how to live with it, how to carry on. We had to take back control and keep in touch with our customers, as some of them were considering canceling or delaying their orders, or trying to solve the problem of tests and installations…
We reacted immediately to consolidate our financial situation, securing the necessary resources to keep investing. With this approach, we were able to keep working with peace of mind, although we were recording a significant reduction of orders, by 20 to 25 percent.
We have been holding on strong, we made all possible holidays, for a few weeks we adopted layoff schemes… like all Italian companies, we decided to carry on, using all the available resources.
Consider that, in that period, we were completing our new showroom, building the machines we planned to exhibit there, so we were making significant economic and operating efforts for a small company. We did not give up, and fortunately, things started to change".
Since the end of May, and most of all in the following months, there has been a "rally"…
"Definitely, though we cannot say the trend has been explosive. As far as we could see, directly and indirectly, furniture demand has been solid for the reasons you can imagine. The demand for all household products, designed to make your living space more comfortable, has increased significantly, helping us compensate the initial loss and close the year with better results than we feared".
Do you think some markets have reacted better or faster?
"In general, I can say that the European markets have proved to be stronger. Working abroad is definitely more difficult, not to say impossible, because the travel ban stopped our activities in South America, the United States, the Middle East, all over the world. As we could not send our installation teams, we had to replace them with the engineers of our agents, but of course this had an impact on results: in the most remote markets, where technology and engineers are in high demand, business relations inevitably "slowed down", or stopped altogether.
These topics clearly represent the first lesson learned from the "Covid-19" pandemic in the economic sphere, showing that companies need to have a stronger structure and rely on stronger networks, on a larger technical-sales network. There is no doubt that, if we had had subsidiaries in every country, we would have suffered much less, but how can a small company afford such an organization?".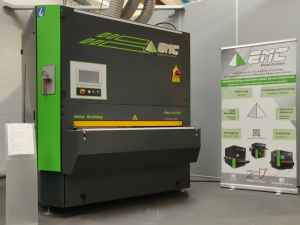 For some time now, you have also approached metalworking…
"Thank you for mentioning this: we wanted to diversify our production and it seemed obvious to design and build sanding machines for metal. We have developed a dedicated sales organization, and in just two years, these machines now account for almost one fourth of our revenues. These machines are interesting, with less sophisticated technological requirements than the woodworking industry, due to the nature of the materials to be processed. We feel at ease in this business and we believe we can do even better".
And tomorrow?
"The future will be even more challenging. As I said, we believe that, to approach bigger and bigger markets, we must have the necessary energy. For us, this means we have to commit to solid partnerships, with companies and groups bigger than us. Maybe it would be enough to understand that success comes from the acknowledgement that being a manufacturer is more than just being a brand, you must produce machines that will be offered to the entire world, to customers that we will never be able to reach without larger and stronger sales organizations. This does not mean giving up your peculiarities. On the contrary, you must be a specialist, known and appreciated for what you can do, and possibly doing it better than others!".
by Luca Rossetti
Emc, making good sanding machines while imagining future challenges…
ultima modifica:
2021-03-01T07:00:43+00:00
da