We met Luigi De Vito, Wood Division director at SCM, to review the events of 2020 and, most of all, to see how this year will be or might be for the Rimini giant…
"2020 was really complicated, but these are the situations where you see the courage and strength of a brand: SCM has never stopped its strategic long-term plan launched before the pandemic, and we are willing to continue this process." There is no hesitation for Luigi De Vito, Wood Division director at SCM, whom we asked to tell how things are going for the Rimini-based giant. "It's a long time since we have decided to invest in products, markets and innovation, to keep consolidating our market shares and support our growth. I will not dwell upon the pandemic and its impact on our lives, our freedom, our families, as I would repeat concepts we have heard so many times. I would rather stress that the sanitary emergency has driven every company, including SCM, to "look deep inside themselves" to make sure that their direction was still compatible with the new context".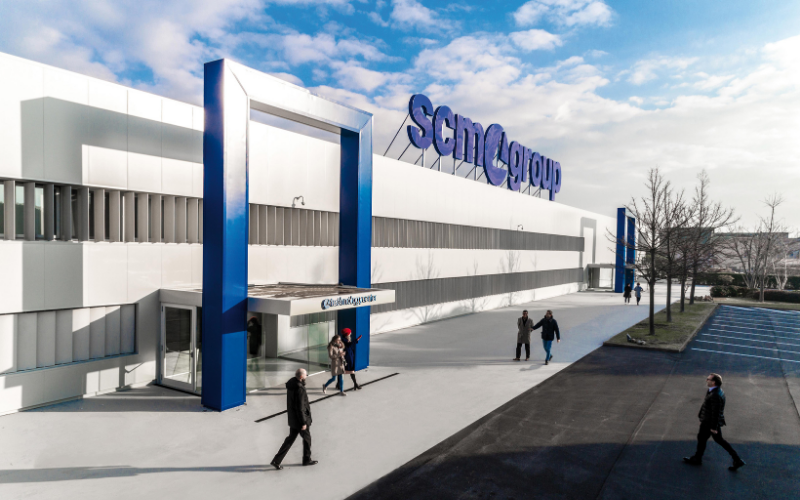 "We immediately created a task force to respond to the pandemic and redefined a strategy based on few strong pillars. First of all, the safety of people, our greatest asset; in few hours, we enabled 90 percent of our staff not involved in production to work from home, showing that we were ready, and our employees were just as well. The safety plan involved all our sites, in Italy and around the world. Our subsidiaries, more than twenty, across five continents were affected, and thanks to constant networking, they were able to anticipate problems and minimize possible damage.
To start over quickly when the markets reopened, we worked hard in our departments, in production, to implement strict sanitary protocols and to monitor them constantly, sharing every decision with our employees, trade unions, local and regional authorities".
"The pandemic accelerated the digital transformation that the company had already undertaken in many areas, relying on the necessary skills… and this is the second pillar. We have pushed even stronger on the training of employees, immediately providing e-learning services for all our sites around the world: more than 70% out of more than 70 thousand hours of training courses delivered in 2020. I can mention another example: in just over one week, through our e-campus platform, we collected the registrations of 800 engineers working for our distributors and customers, who attended specific maintenance courses in several languages; in this way, we showed to our customers that we stand close to them to make the best of a forced lockdown period".
"This experience has further strengthened the third pillar, namely customer support, which was never suspended, even during the strictest lockdown periods. We transferred the necessary skills to our subsidiaries around the world, which helped us support our customer base when business travel was banned, both for sales and for customer service, responding to all support requests, continuing to make installations, also remotely and in prohibitive conditions. This strategy has rewarded us, as customer renewed their confidence and really appreciated our will to support their production.
We did not stop big investments: during the pandemic, we launched a deep revision of our "spare parts service", improving all customer support processes with new tools that help us be closer, quicker and more effective.
We worked uninterruptedly on our products, maintaining the same investments in innovation and R&D. We showed this at our digital event "SCM Live Show", when we presented the new solutions that we should have launched at Xylexpo, in a year that was suddenly deprived of all exhibitions. This event reaffirmed our role of pioneers, not only showing our digital and technological competence in all woodworking domains, but also clearly proving that we can cultivate quality relationships even online, although we believe that this option cannot replace meeting in person…".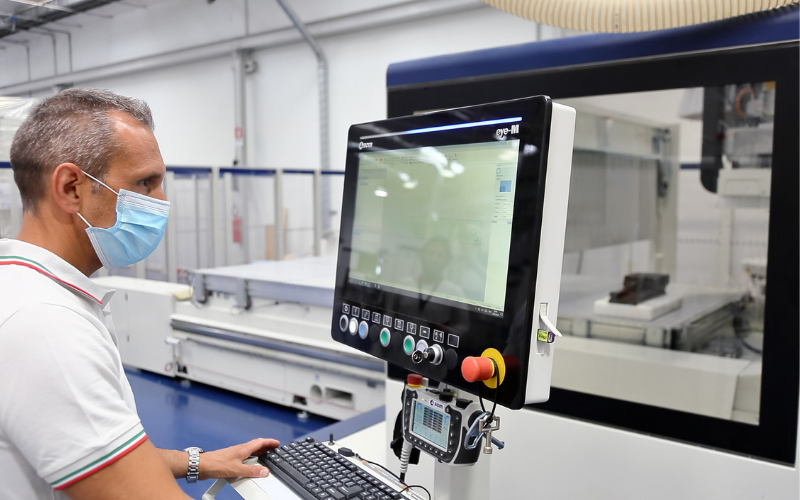 You have started over building on these pillars…
"The strategy described so far, together with the commitment and dedication of all collaborators, has helped us restart immediately when the markets reopened. In the second half 2020, the Wood Divison of SCM, which accounts for over 70 percent of the total revenues of the Group, quickly made up for the deficit caused by the April and May lockdown. And today, we are still recording a more than positive trend of orders, even better than the previous year.
This is a good way to start a period that will lead to a consolidation of business development on a European and global scale, characterized by the support to manufacturing in terms of digitalization and sustainability".
Are there segments that offer more satisfaction?
"The furniture industry is a global market where we have specific excellence, but we should also mention wood constructions which is developing into specific directions: we know that buildings absorb 40 percent of energy consumption and release 30 percent of the emissions that generate the greenhouse effect. These issues will be faced and solved with materials and technologies other than reinforced concrete. SCM keeps investing in this industry, and in 2021 we will double the area of our factory in Sinalunga, in Tuscany, where our wood construction solutions are created.
The digital and IT development of factories is proceeding just as fast: the trends of flexibility and multi-channel sales have consolidated, as well as the methods to "combine" different technologies. I am thinking about our focus on "Surface Technologies", where we have integrated products and expertise in the sanding, pressing and coating operations, from veneering to surface treatment, investing in the new factory and Technology Center in Villasanta, as well as in thew Surface Tech Lab in Villa Verucchio".
The digital transition is always leading the way…
"That's inevitable. The digital transition is closely related to other key topics for SCM, such as "smart manufacturing": closer and closer collaboration between smart factories and new skills, a different relationship with services that are increasingly integrated in the product. All of this is increasingly melting into a unified value for customers, a concept of "integrated strategy, product and service" that we are carrying on, representing the core of our relationship with them. Today, for a customer, it is definitely easier to understand what technology can offer, and when we allow him to make the best decision, we can say we have really been able to improve our contact method".
So, you are optimistic for 2021…
"It will be a positive season, even if not all companies will go back to pre-Covid levels in twelve months, but progress will be significant. We are looking at 2021 as a year of consolidation on all the strategic markets. The book of orders is recording an excellent trend in the first part of the year, and the initiatives and incentives to support the manufacturing industry in several countries in Europe and worldwide are encouraging. This is the opportunity for the wood industry to renovate the factories and the make their operations more digital, efficient, flexible and eco-sustainable".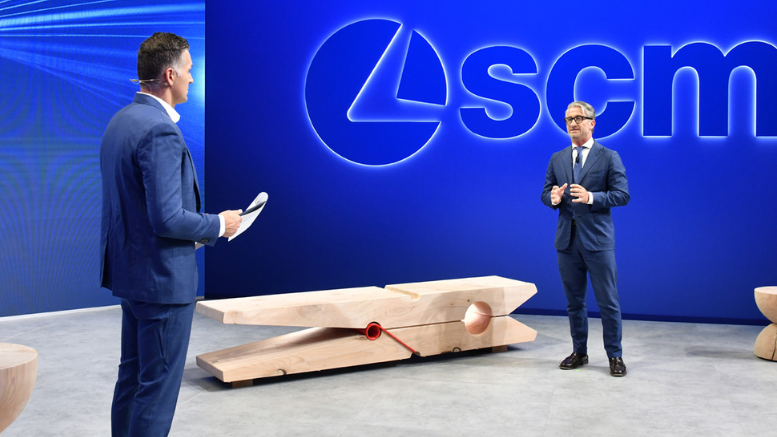 Mr. De Vito, which are the products and techniques that promise the best developments?
"As already mentioned, it's definitely digitalization and automation. Whether it's cells, systems or integrated lines, these are the tools to achieve the highest process flexibility. There will still be space for innovation in wood construction technology, where you can offer solutions to support the growth of all stakeholders, independently of their size and specialization.
And we should not forget our traditional machines for joiners, which in 2020 expanded their market share, leveraging our capacity to introduce new enhancements in terms of quality, reliability and customer service".
And what about big plants?
"In 2020, big plants suffered from a more cautious attitude by the markets, but nevertheless we could acquire significant orders for engineering projects with market-leading customers. For standalone machines, the recovery has been stronger: it's a positive period for standalone but connected, integrating, collaborating machines, interconnected by software that can handle even very complex production processes. They are real "mini factories" with the ability to monitor every stage of production and keep in touch directly with the customer service, that plays a more and more critical role in purchasing decisions…".
… and maybe you can buy them online…
"At SCM, we have developed a very effective system for spare parts, whose sales have increased massively during the lockdown. In the multi-channel business of the future, this purchasing method will expand its role, but actually, the customer's decision process will become more and more digital. We have cut "physical" documents by 70 percent, because a large portion of documentation is online and it's easier to send information by e-mail. Working on these new relationships, on service, on the effective of tools, we will get closer to a level of confidence that will convince the customer to finalize the actual purchase".
by Luca Rossetti
"Digitalization and sustainability, the keys for the future"
ultima modifica:
2021-04-28T12:24:45+00:00
da