"Our handicraft workshop is located at the foot of the Dolomites. Our passion for wood comes from this amazing environment. A timeless material that we have chosen: we use antique wood, giving it a new lease of life. But we also like to match it with other materials such as glass, steel, stone or Krion, and to light everything up with special lights creating a relaxing and pleasant atmosphere".
These were the first words we read on the Dolomwood website, together with a picture of the smiling faces of its two founders. These words absolutely describe the world we had the pleasure of experiencing on a beautiful day of April, while climbing, by car of course, up the slopes of the Dolomites, against an enchanting landscape.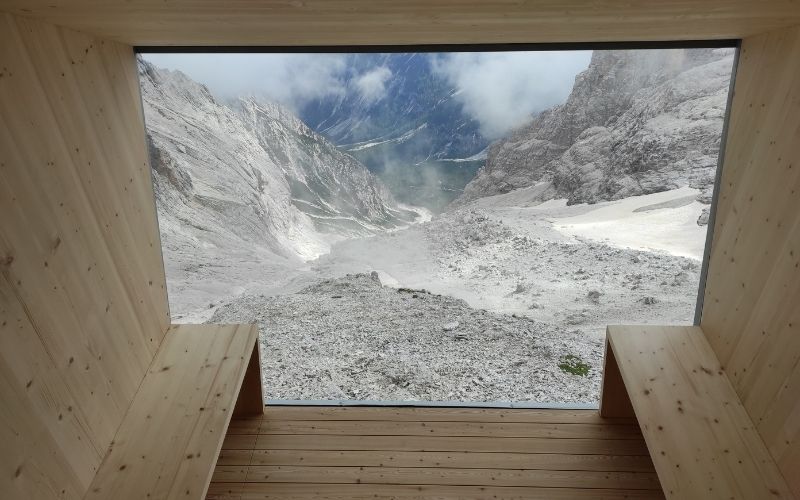 To tell the truth, we were really curious, since we had been informed by Biesse – a name that needs no introduction – about the possibility to organize this meeting and write about it: "You know, they were the ones who made the new Fanton Bivouac, a spectacular place, 2,600 meters above sea level, in the heart of the Belluno Dolomites…".
A couple of phone calls and the appointment is set. Filippo Corisello welcomes us, he is the founder of Dolomwood with his partner, Filippo Tremonti.
Corisello explains: "Filippo and I have been friends forever, and in 2009 we decided to start our own business, while continuing to be carpenters but with a different project, our own. Around us there are dozens of small and large companies all focused on the true vocation of this valley, the eyewear sector, where things have become more difficult lately… and then we had wood on our minds! We come from generations of carpenters, we have almost an affective bond with this material".
And the idea turned into reality: both Filippo Corisello and Tremonti love to climb, they love their land, they know how to work wood with the most modern machines, and this was enough to be entrusted by the Cai (Italian Alpine Club) with the construction of the wooden structures of the new Fanton Bivouac.
A dream: their work goes hand in hand with their love for the mountains, the successful completion of a project born in 2009, when Dolomwood was founded. The early years were difficult and struggling, because no one knew them, no one would call them for a piece of furniture, a door…
"I must admit that we have moved very quickly, and in just 12 years we have built a solid enterprise that has been able to make itself known and appreciated because we do everything by the book, without compromise," adds Filippo Corisello.
"We personally visit customers to take measurements, we design in 3D, we create renderings of the environments we suggest, we take care of the smallest detail and installation. When we don't use solid wood, we often produce the panels we need, cladding blockboard or glulam with thin solid wood planks that we have obtained from the old wood o some cabin or renovated house. We use spruce, we prepare it, we laminate it and we put it into the press…".
"When the Vaia storm destroyed most of our forests, we could have had huge quantities of wood to process, instead of selling it out to the Austrian giants who then re-sold us the semi-finished products at ridiculous prices," adds Filippo Tremonti. "If we had had the strength to collaborate we would have created an entrepreneurship linked to the territory, the land and the nature".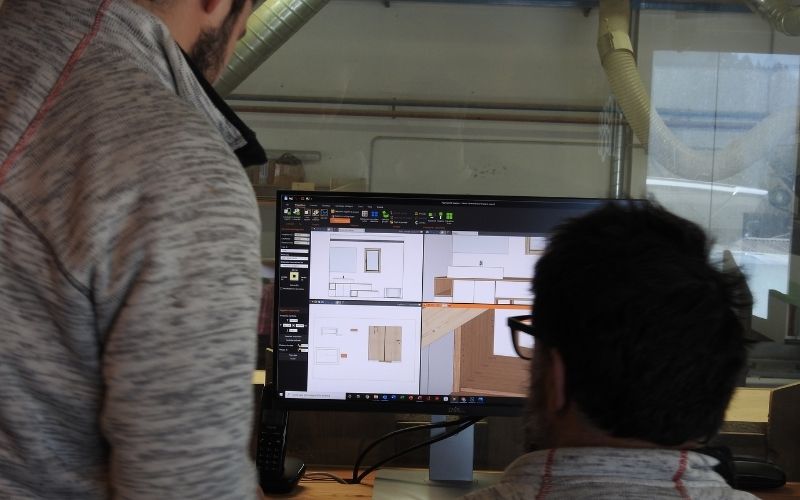 Let's go back to when it all started…
"Our company is only 400 square meters big, but in the beginning, we were working in an even smaller space. We equipped the space with plants, first with traditional machines and then more modern ones, and all this allowed us to grow very quickly. We wouldn't mind having more space, but we chose from the beginning to be a small company, an artisanal carpenter's shop perfectly equipped to be what we want and have always wanted: do things properly, always offer the highest quality and process wood not to produce and earn more, but to show the beauty of the wood of our mountains to the customers who choose quality".
"We chose higher-performance machines to respect wood, optimize its use and minimize waste," Filippo Corisello says. "Technology also allows this, as well as simplify our daily work: it can be demonstrated with the Biesse machining center we purchased in 2018. My partner and I always talk about buying a second one, if only we had a little more space. Our dream came true four years ago when, although we had very high-performance machines, we chose to invest in a different, new technology, in line with the times. We have always chosen top classic machines, and we did the same with the machining center: we went to a few trade shows, we informed ourselves and checked the products, and in the end, we chose Biesse's "Rover A".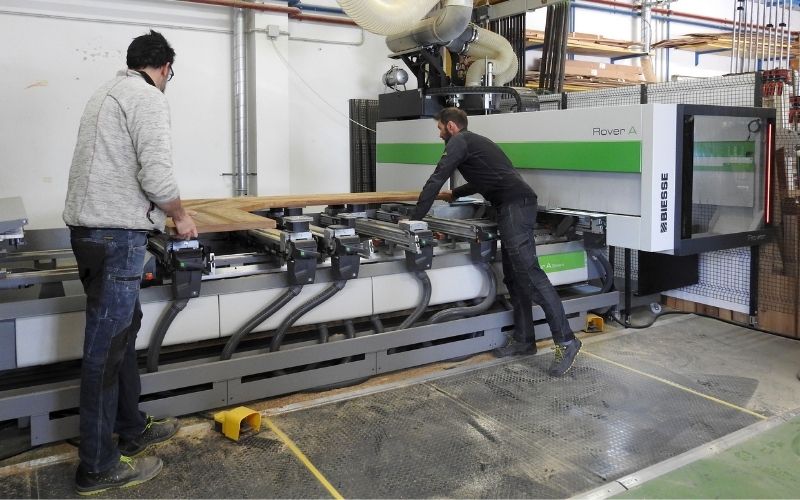 "Fortunately, we didn't need to call them very often – adds Corsello, smiling – and with the online service, many things can be fixed quickly: when we needed them, all we had to do was 'open a ticket', and within half a day everything was fixed.
"I admit I was skeptical at first," Filippo Tremonti says. "Perhaps I'm a bit old-fashioned and I was frightened at the idea of such an "automatic" machine: now I couldn't do without it, having had the opportunity to experience firsthand what it means to be able to work with a good machining center, how much it changes the way of working, how everything can become simpler, with a quality and a reduction of error chances I would have never imagined! 
It took some time: these machines are born from an "industrial concept," and seeing them working on our materials to do what we do…even the Biesse technicians who installed them were a little doubtful at first, but in the end the facts proved that this was the best choice ever, and today we can say that at least 80-90 percent of the products go through our "Rover." We have to be very accurate in positioning and clamping the workpiece, since the surface is not always absolutely smooth, but by now we know how to do it...".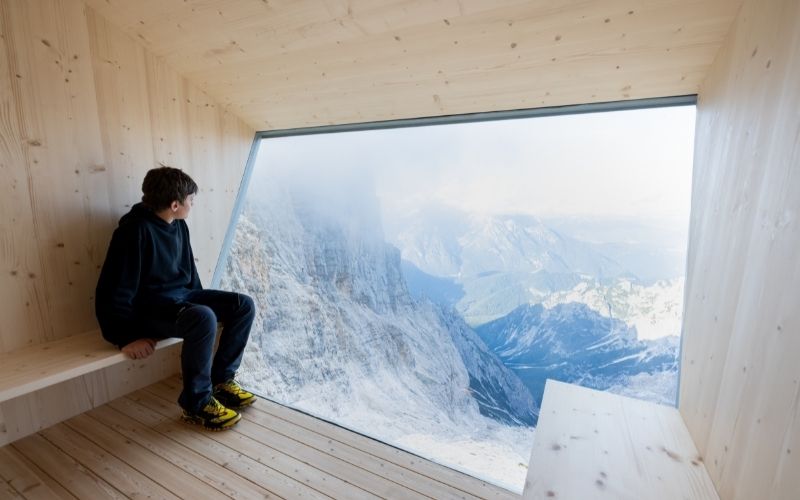 Tell us about the Fanton bivouac…
"…we couldn't have done it without the machining center: we had to "dress" the load-bearing structure of the Fanton bivouac, made of aluminum and zinc-titanium, for which we received the virtual data acquired with a laser scanner," they tell us. "This information was then turned into project data and, with the architects of Studio Demogo, we imagined an environment that would meet the strict functionality that a high mountain bivouac must guarantee.
We uploaded all the instructions to the "Rover A" and started the production of the necessary elements: almost 300 pieces, both small and large, transported by helicopters and assembled in just three weeks, thanks to the precision of their manufacturing".
So, a small company (three people, including an employee hired some time ago), "right" investments, love for the mountains and the territory in which they live and work, knowing that wood is the child of these valleys, of these stories, and it's a traveling companion to do wonderful things with. Both Filippos don't want to change: they want to open the door in the morning with the sun rising over the Dolomites and enjoy the sunset, before going home. Time matters. Devote the right amount of time to what needs to be done, for it to be well done, to last in time and to have the smell of these mountains…
By Luca Rossetti
Dolomwood, a passion for wood and technology…
ultima modifica:
2022-05-21T17:50:16+00:00
da