Thiene-based Essetre, specializing in machining centers for wood constructions and boasting a long tradition in kitchen worktops, is clearly showing how companies can grow and innovate in a mature business.
It's a habit for us to travel to Essetre in Thiene and let us guide on a facttory tour by the company founder Gianni Sella. After many years of regular meetings, we can talk plain, talk about what's happening, imagine what might happen next in the wood and furniture machinery business. For sure, our conservation gets deeper and more focused, full of satisfaction and thoughts, when Sella talks about the machines around us, what he has invented since the last time we met, what's his greatest satisfaction, and how happy he is to see his three children taking the helm of the company: Andrea as engineering and operations manager; Cristina as general manager, and Nicola as sales and software development manager.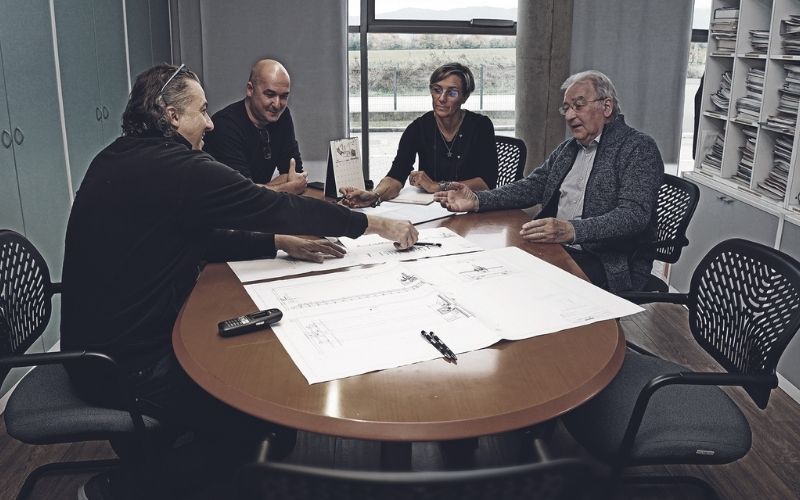 He tells us about competition, the more and more critical role of technology, but inevitably he gets back to the skill we have always admired in Gianni Sella: his undisputed capacity to find a better solution. We immediately see an example as we approach a big machine, approximately forty meter long, to process large construction elements, where Sella has replaced the huge electric cabinet and kilometers of cable normally necessary to control the motors and drives of such a giant machine with a number of "small control units" distributed along the machine. A simple, straightforward, clean, even cost-effective solution…
The machine is so big that you immediately understand why the Essetre site, built just few years ago, has been significantly expanded.
"We scaled up from 4,700 to 9 thousand square meters: it seems a lot, but we need all of them", says Gianni Sella with his familiar smile.
"We build many machines, and many of them are big, so space is essential. We have also reorganized our production methods, creating working islands where our most popular solutions are manufactured, "smart" areas surrounded by the necessary spaces to store aggregates, parts and materials for each production line.
The market is rewarding us, and for some of our machines, such as "Techno Fast", we had to set up series production: we are maintaining one of our core skills, namely the capacity to customize our solutions, but we had to introduce a more "industrial" work organization based on "lean production" principles. Also our popular "Techno PF" will soon be built on a dedicated lean line".
"We are also getting satisfaction in other areas", adds Gianni Sella. "The subsidiary we opened in Charlotte, United States, in 2020, without being scared by the pandemic, is working at full scale and helping us approach also the Canadian market with an adequate portfolio and service. Continuous growth is paying back for our clear and "right" decisions, offering machines that are beautiful, smart, useful, strong and effective.
No one else can offer a machine portfolio for wood constructions like we do, about ten machines of different size to process beams and walls, complementing our "historical" solutions for five-axis machining of worktops, panels and kitchen tops. Our machines are strong, they do all it takes, empowered by specific software developed in house that allows to operate them at their best and very easily."
"The results are clear: our revenues have doubled compared to 2020, our machines are shipped all over the world, and also Italy – with the Industry 4.0 incentives – is giving much satisfaction", says Cristina Sella. "We have grown a lot and we had to "look into ourselves", expand our premises, involve "high professional skills" to support us on the journey we have decided to undertake and to stand close to our staff of approximately fifty employees and ten external collaborators.
To work more intensively in many countries, you need reference persons, a stronger and widespread technical service, the capacity to keep up when business is running fast.
All these elements have forced us to renovate our organization, starting from the creation of a managing board that, while being built around our family, clearly defines the tasks and responsibilities of each member, so that we can be fast, dynamic and flexible in identifying and developing our key strengths to keep improving".
Such changes requires specific expertise and experience also in management. Hence the decision, two years ago, to involve Giuseppe Gherardi, an expert manager in the wood and furniture technology business, who is supporting the "skin change" of Essetre.
"Such a positive season can be driven only by several factors", says Giuseppe Gherardi. "First of all, the quality of machines and technologies "made in Essetre", designed to offer high performance and give the best to our users, while being engineered to be built rationally. Machines like "Techno Fast" are rational and with few variants, but still adapted to the needs of each customer, solutions that combine construction synergies with market success… in other words, competitive products that offer top performance to customers, and are easy to produce compared to our competitors, who must design special tailor-made solutions to achieve the same performance.
The second success factor is a commercial "freshness" that enables us to approach everyone with concepts and tools created to be convincing when we present our machines.
The third factor is the approach to marketing activities, unusual in companies of this size: an approach that communicates our values in a balanced way, always finding the right mix of values including tradition, company history and ability to transfer the "innovative ingenuity" that distinguishes our machines."
This adds up to the current positive trend of wood constructions…
"Yes, definitely: sixteen years ago, the Sella family made a long-sighted bet on this sector and created a story and a reputation that are now giving results. Also in this case, I would emphasize Essetre's peculiar mix of business intuition, technological and technical foundations, investments and implementation speed, as the delay between decision and action is really short!
As evidence of this, lean production criteria are now predominant, our production area has doubles, we invest in the continuous renewal of machines and components, as well as in foreign subsidiaries, onboarding innovative people and IT tools that improve our service operations to such an extent that each and every contact with the customer is really rational and error-proof." 
"All of this while preserving an essential value – adds Cristina Sella – that is, respect for each other, for our customers and our employees, much stronger and deeper than a conventional working relationship. We believe in personal relations, we know that people always make a difference and find solutions and meeting points. We have a story that tells about our company and our capacity to set reasonable goals: as a result, we are positive and proactive, because we stand firmly with our feet on the ground and we know where we can go."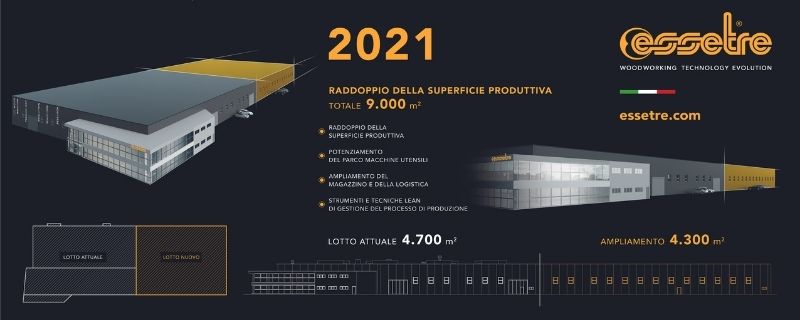 "Last autumn, we prepared a five-year business plan, which is really unusual for our type of business: we had to do it, because the energy that drives Essetre is so powerful that we need to think about long-term targets. In the meantime, the pandemic has ended – hopefully forever – and a war has broken out, so one could decide to discard the entire project. But no, we discussed every day to adapt our plans and drive our ideas and projects towards significant goals, keeping a very positive vision.
And then, plans are made to be changed, otherwise you cannot find the strength and the courage to go anywhere! In 2020, our revenues were just above 9 million euro; we closed 2021 at 16.5 million, with an order book above 22 million for 2022 and a real opportunity to reach 25 million in 2023.
Sure, we have to face a scenario that is causing some worries, but Essetre has chosen to combine ingenuity and great technical skills with other values, other commitments, other skills, so that we can generate even more value for a long time. Do you want another example? Essetre is not a big company, but we have innovated a lot and protected our innovation with patents, with a long-sighted vision and awareness of our potential that are strong pillars to build a strong business."
"And then the future unfolds before you, you don't need to look for it", concludes Gianni Sella with one of his smiles. "It comes with our customers, it is created by our interaction with them. Every time, it is a challenge, but we have been working like that for fifty years and we are used to carry on, to do all it takes, to do what must be done…".
by Luca Rossetti
A "new course" for Essetre
ultima modifica:
2022-05-23T11:03:14+00:00
da