Satisfaction and excellent results. Xylexpo 2022 was a great event for Weinig, the well-known German group specializing in the production of woodworking machinery and technology. The four-day event was a success according to Albert Grumer, general manager of Weinig Italia. We took the opportunity to talk about their return to Xylexpo and to illustrate the results of the group in this unordinary three-year period. Weinig attended the event in force, erecting a booth larger than 1,100 square meters, almost twice as large as at Xylexpo 2018. "This year we were the second-biggest exhibitor, we had 17 machines in operation, as clear evidence of our interest", Grumer said.
"I am very satisfied and even a bit surprised by the attendance figures", he said during the exhibition. "At the beginning, we had several doubts, I will not deny, considering the absence of a few major groups from Italy and Germany. We wondered whether we should participate or not, but I must be honest: as the Italian manager, I pushed and I believed in this initiative, after two years of pandemic. An Italian trade fair in Italy was important. Our customers are longing for exhibitions and we must approach these events with the strongest commitment and all our resources. We really believe in the importance of exhibitions, of direct contacts, going back to live interaction, not just through a screen".
"The year 2020 was clearly the most difficult year, because we were overwhelmed by the pandemic without any notice, but we worked really well. I must say we were a digital entity even before the pandemic, and this has enabled us to react promptly to the challenges of 2020, the constraints to mobility, the slowdown due to logistic issues.
Instead, 2021 was a really positive year for innovation, investments and figures. Sure, we must take into account the fact that the 2021 figures were driven by many incentives, Industry 4.0 above all, and by the re-opening that "boosted" demand. Real figures, of course, with record orders and revenues on a global scale for Weinig group, which achieved their all-time record, but to be considered carefully, being aware that you don't have to stick to figures only, but you must work with a long-term vision. In this respect, the year 2022 confirmed the excellent job we have done and the longsightedness of our decisions. In terms of figures, orders and revenues, we are in line with the results of last year. As mentioned, a big driver were Industry 4.0 incentives, so we must be ready when these incentives will decrease. We are ready".
And what about 2023?
"The figures of 2022 cannot be replicated by anyone", Grumer explained. "Due to the inflation, the increase of energy costs, and the complex situation of raw materials, what we can expect is a period of greater uncertainty, especially if compared with two exceptional years like 2021 and 2022. The year 2023 will see us out of the bubble we had in 2021-2022, but I am confident we will be ready".
Which strategies will you deploy?
"For sure, this is a complex situation and you cannot rely on strategies or plans with too long a vision". The energy costs add up with the unknown factors of the Russia-Ukraine war, which is forcing us to live in a sort of war economy, with the related human and industrial consequences. Clearly, the first strategy to be deployed in such a situation is to focus on energy saving and cost reduction. In this respect, we have tried to expand our product portfolio to develop entry-level solutions for small and medium businesses, to optimize cycle time and costs. You must be able to adapt".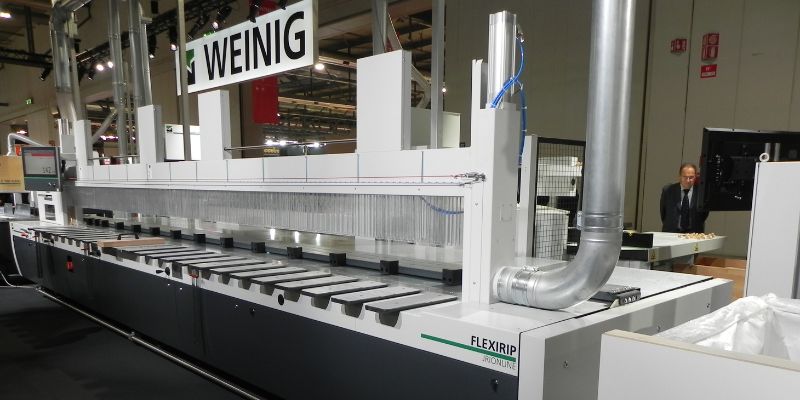 Which are the keywords for the future?
"For sure, the keyword in the near future will be optimization. Optimize production processes, maximize the yield of wood by reducing or eliminating waste where possible and further increasing efficiency. These are key concepts, especially in the search for sustainability.
Another keyword is digitalization. At Weinig, we have been promoting this concept for years and we are aiming high both for small and medium business and for large companies. As a matter of fact, we are working to increase the efficiency and the performance of our software even further.
As mentioned, we are going to face complex years, ridden with challenges, from digitalization to sustainability, but I believe we will be able to tackle them and achieve the best possible results".
by Francesco Inverso
weinig.com
Weinig: a snapshot of present and future…
ultima modifica:
2023-01-23T15:48:12+00:00
da