A new smart factory and a range of interesting new solutions to be shown to a large audience. At Ligna 2023, SCM will present a lineup of keywords that represent the philosophy of the Rimini-based group: automation, connectivity, flexibility, sustainability and optimization. Five keywords that will guide visitors through an exhibition area covering more than 3,000 square meters, illustrating the new technological solutions developed by the group.
SMART&HUMAN FACTORY FOR THE FURNITURE INDUSTRY
The system of flexible cells on display in Hanover for five days can produce up to 400 furnishing components per shift and is mainly aimed at furniture kit manufacturers.
In the beam saw area, SCM will be presenting its new "gabbiani gt2" flexible cell with articulated robot for automatic loading and unloading. The cell has been designed to optimize shifts and combine "batch 1" machining needs with those of large-volume production. The cell is enhanced by the new "Maestro optiwise" optimizer, and has been designed for manned or unmanned use, allowing for immediate and automatic switching between one mode and another.
In the edgebanding area, SCM will be presenting a "stefani cell E" flexible cell that combines the numerous advantages of the "stefani x" industrial edgebander, in terms of productivity and machining quality, with the advantages of a flexible and automated integration of the entire production loop, they told us from the Rimini group headquarters. In a logic of complete automation, the panels are supplied autonomously to the edgebander by an industrial articulated robot. On exiting, the Pickback bridge system guarantees the timely return of the panels after longitudinal or transversal machining.  The cell is governed by "Maestro active edge" HMI software for a simple, intuitive control, and is designed for an intensive use over several shifts, with a speed of 25 meters per minute.
Other new entries include the morbidelli cx220 drilling and dowelling flexible cell with robot that creates all the parts of a piece of furniture more efficiently, even with pieces that differ considerably from one another.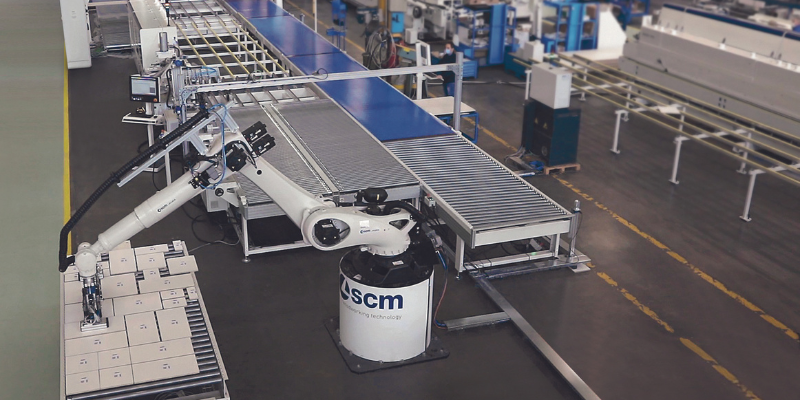 "SMART&HUMAN FACTORY" FOR SMALL BUSINESSES
A large area of the Rimini group's hall will be dedicated to the "Smart&Human Factory" for handicraft businesses. SCM will present an integrated cell for flexible and custom production from the raw material to the finished piece of furniture. As well as MES "Maestro easyFlow", ideal for creating the perfect integration between the office and production area, the cell benefits from the advantages of the machines involved, considerably reducing times and margins of error.
The "class px 350i" circular saw has been enhanced with the SCM Thundercut optimizer/sequencer, unique in driving the operator step by step when inserting the panel into the machine and in cutting.
The "startech cn plus" CNC drilling center has been designed to produce furniture parts easily and flexibly without repositioning the tools and without a need for operator intervention.
DIGITAL SOFTWARE AND SERVICES
Flanking both Smart&Human Factory processes will be a vast integrated proposal of software, MES and digital services on display in the "Digital Integrated Woodworking Process" area. Software and services that support the customer at each stage: data preparation, planning, production, monitoring and after-sales assistance, increasing efficiency and connecting the office to the factory.
The CAD/CAM office programming software is updated for the preparation of data for "Maestro cnc" machining centers and the 3D "Maestro pro view" simulator for machining panels and solid wood.
For production planning, optimization and control, a MES software will be presented, that allows to integrate all SCM machines with any MES software of the customer, to manage the 4.0 programming, management and interconnection of the entire production flow.
For solid wood machining, SCM offers "Maestro Power TMS", the software that simplifies and optimizes the management of tools inside CNC machining center magazines.
The HMI software and "Maestro active" line supervisors have also been updated for an even simpler, optimal control and interaction with all the SCM machines.
In support of the production monitoring stages, machine maintenance and after-sales services, the digital services enabled by the IoT "Maestro connect" platform have been further enhanced.
FOR PANELS
Making its mark among the panel CNC machining centers is the new "FlexDrive" system that will be applied to a "morbidelli m100" "All-in-One Technology" drilling-routing center at the trade fair: via an innovative positioning system, this worktable allows for manual set up without the possibility of error thanks to the built-in light indicators on bars and suction cups/clamps.  
Another major innovation is the nesting center "morbidelli x200": it's an in-booth labeling machine, an exclusive device bySCM for automatic label printing even without the complete cell. This solution offers a cost-effective and automated system that can operate unattended.
On display, for solid wood machining, the "hypsos" 5-axis machining center with integral booth, devised for designers and the three-dimensional machining of complex-shaped and large parts.
Making its début at Ligna is also the "accord 500" cnc machining center to produce doors, staircases and windows in solid wood.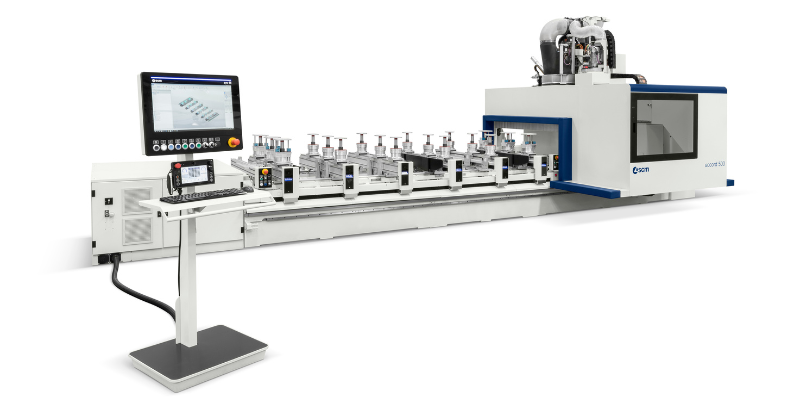 Among the new entries for joinery machines, making its début is the "startech cn k" compact 3-axis machining center, ideal for any kind of routing, decorations, scoring, creation of signs and 3D model prototype. The machine is equipped with a 2.4 kW electro-spindle, and with its integral booth, it guarantees protection to the operator and a clean working environment; it is also very easy to use. Also being highlighted are the new "eye-S compact" touch controls on edgebanders and the exclusive "Blade Off" technological solution applied to circular saws and fitted with exclusive smart sensors to machine in complete safety.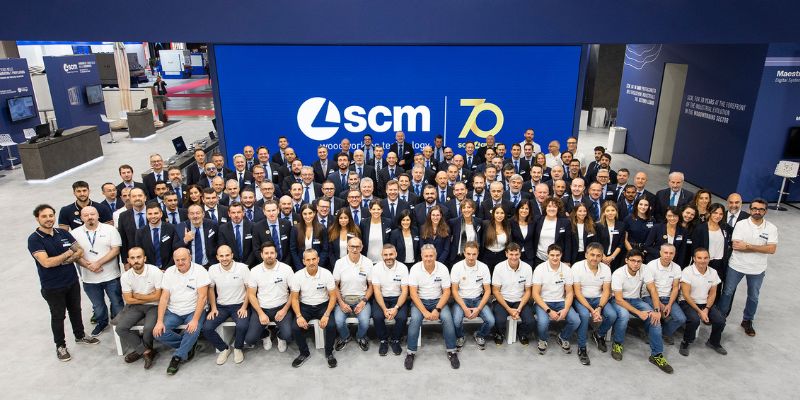 In Hanover, the Rimini-based group will also exhibit the SCM Surface Technologies integrated offer for surface treatment proposals, which has been enhanced with new devices and models. Under the spotlights will be SCM's new laser unit applied to the "dmc system" automatic sanding-calibrating machines, real flexible abrasive modular numeric control machining centers. This multi-purpose innovative unit is particularly suited to creating three-dimensional scoring on parquet, wooden elements, mdf panels to be veneered, fiber cement panels and solid surfaces of any length. Furthermore, the exclusive "Self-Refilling" technology allows to achieve the best performance without interruptions to the production flow.
A vast range of new Superfici solutions for finishing will also be presented in Hall 16 (stand C6-D5). A dedicated area will be given over to the new "compact xl" in the sprayers section: designed to offer excellent production capacity, it reflects the company's worth, increasingly focused on energy saving.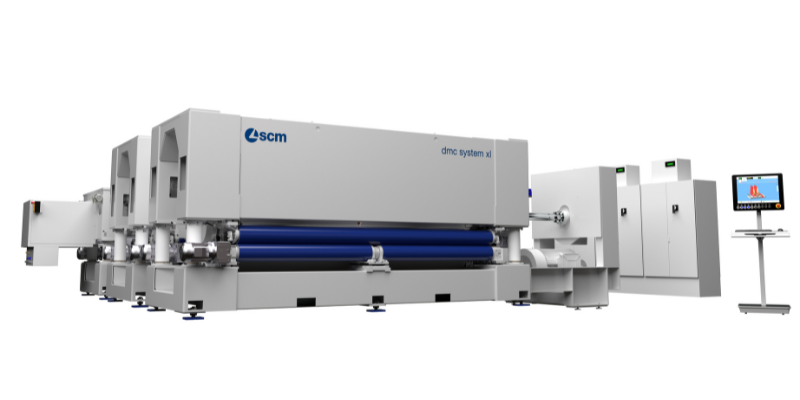 Important new entries for the timber construction industry. SCM will be presenting "oikos xs", and for sanding applications in timber construction, "dmc system xl", a highly modular automatic sanding-calibrating machine, capable of machining X-lam/CLT wall panels up to 3700 mm in width and 500 mm thick.
SCM's new automated and connected solutions on stage in Hanover
ultima modifica:
2023-05-02T14:09:47+00:00
da