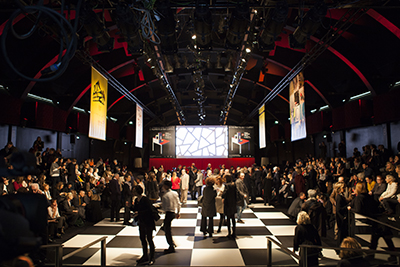 We are writing just few hours after the end of the press conference introducing Salone del Mobile.Milano, edition number 56, and we will talk about it more extensively in the next issue of our magazine.
As usual, there is plenty of news and lots of "iron in the fire" for the most important event of the furniture industry on a global scale, starting next April 4 at Fieramilano-Rho, with an opening ceremony to be attended also by the Italian President of the Republic Sergio Mattarella.
"It's the first time a President of the Republic attends the opening ceremony of the exhibition", said Roberto Snaidero, president of the Salone.
There was also the Milan mayor Giuseppe Sala: "Milan is an open and integrated city", he said. "In a period when so many young people are leaving Italy, we are lucky to see many who want to come to Milan: 60 percent of non-Italian design students who graduate in Milan decide to stay here and 80 percent of design graduates find a job within one year. We have a great opportunity, but we can seize it only if we work together and try to keep the city really open and integrated…".
The next edition is launching a new format of the classical section and two events, unprecedented visions of contemporary design and workspace. The close synergy with Milan is essential, as the city and the exhibition together become the world capital of design, as written in the payoff of the communication campaign. "Design is a State of its own. And Milan is its capital".
We are less than 60 days from the start of a Salone that, with a complete lineup from furniture to lighting, up to working environments, can attract more than 300 thousand visitors from over 165 countries, more than 1,300 exhibitors and the interest of 5 thousand journalists from all over the world.
Salone Internazionale del Mobile, Salone Internazionale del Complemento d'Arredo, Euroluce, Workplace3.0 and SaloneSatellite. The latter is celebrating its 20th anniversary in April, standing out as a meeting place for selected young people from 5 continents, entrepreneurs,
architects, interior designers and media. The key topic of this editions will be "Design is…?": an open question, current and crucial. The anniversary will be celebrated with the 20-year SaloneSatellite Collection, a special edition of pieces designed by international designers who made their debut at SaloneSatellite 20. 20 years of creativity, a big exhibition at the Fabbrica del Vapore, curated by Beppe Finessi; a collection of pieces presented through twenty editions of SaloneSatellite as prototypes and then launched on the market, inside the catalogs of popular brands or other meaningful
manufacturers.
The international Furniture Show is continuing its renovation with a new format for furniture and classical accessories in halls 2 and 4: starting from the new longer naming "Classical: Tradition in the future" offers a consistent and balanced layout with no discontinuity.
Concurrently and fully integrated with the furniture show, the biennial exhibitions Euroluce − dedicated to the best lighting solutions currently offered by the market – will be staged in halls 9-11 and 13-15, and Workplace3.0 in halls 22-24 for working environments, plus the International Exhibition of Furnishing Accessories and SaloneSatellite.
The product exhibition will be complemented by the events dedicated to lighting and working environments. The first event, curated by Ciarmoli Queda Studio (who also organized Before Design: Classic at the latest Salone del Mobile.Milano), is called DeLightFuL, meaning Design, Light, Future, Living, and will be introduced by a short movie inspired to the fantasy work of the awarded director Matteo Garrone. The second event, A Joyful Sense at Work, curated by Cristiana Cutrona, tells a vision of the future office, revisiting the theory of office and working environment design with innovative contents and four installations, each representing the specific culture of four international architects: Studio O+A of Primo Orpilla and Verda Alexander (United States), Ahmadi Studio of Arash Ahmadi (Iran), UNStudio of Ben van Berkel and Scape of Jeff Povlo (The Netherlands) and Studio 5+1AA of Alfonso Femia and Gianluca Peluffo (Italy). So, America, Asia and Europe.
Another event will be back with its second edition, space&interiors, directly connected to Salone del Mobile.Milano and dedicated to architectural finishings. From Tuesday 4 To Saturday 8 April 2017, at The Mall Porta Nuova, in Milan's Brera Design District, surfaces, floorings, doors and interior decorations will be presented in an installation created by the design studio Migliore+Servetto Architects.
The 2017 edition will be rounded off by the exhibition Absolute lightness which, through an innovative interactive and digital installation, will highlight the value of decorations in contemporary architecture.
Salone del Mobile.Milano can be found online at www.salonemilano.it and in social media (Facebook, Twitter, Instagram, LinkedIn, Pinterest, YouTube and Flickr), providing all information, news and previews of the 2017 edition.
To plan your visit, you can download the free app Salone del Mobile.Milano 2017 for iPhone, iPad and Android devices.
Salone del Mobile.Milano
number 56
ultima modifica:
2017-02-08T00:00:00+00:00
da