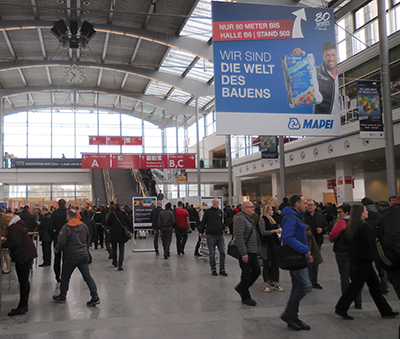 …with plenty of international visitors, as many as 80 thousand out of 250 thousand, reaffirming the attractiveness of the Munich exhibition. There were also many visitors, 2,120 from 45 countries, and now everyone is looking ahead to November for the debut of "Fenestration Bau China" in Shanghai.
Let's start from China, postponing celebrations for another excellent edition of Bau down by a few lines. During the Munich days, Messe München officially announced the acquisition of a majority share in "Fenestration China", a well-established exhibition that for many years has been a reference for doors, windows and facades in the world's biggest construction market. The event in Shanghai – to be held next November 7 to 10, 2017, just a matter of months… – will change skin: this year, the naming will be only slightly changed to "Fenestration Bau China", but the project to turn it into a Chinese replica of Bau has already started; so, we will find most, or possibly all the product categories currently found in Munich. And obviously, a new brand will leave no margin for doubts or interpretation: Bau China 2019.
BACK TO MUNICH…
Let's start by saying that, out of 250 thousand visitors, as many as 80 thousand came from abroad, an all-time record for the exhibition (there were 72 thousand at the previous edition). This is a significant and "coveted" growth for the "International Exhibition of Architecture, Materials and Systems", which recorded the participation of 65 thousand professionals from the design and architecture business.
The ranking of "visitor countries" is headed by Austria (11,520 visitors), followed by Switzerland (5,243) and Italy (5,013). Among the top-ten countries of origin, it is worth mentioning Turkey with 3,055 visitors, Russia with 2,868 and China with 2,235. Among the countries recording the highest growth rates, many are overseas, first of all South Korea (1,301 visitors, 42 percent more than in 2015), the United States (792 visitors, plus 40 percent) and India (803 visitors, plus 59 percent).
There was also a record number of exhibitors, with 2,120 companies from 45 countries filling up every corner of the huge exhibition center, with an extension of 185 thousand square meters in 17 halls.
As usual, hall B5 is the central stage of "wood at Bau" and it's amazing to see, year after year, the increasing use of this raw material in construction products and applications we would never imagine, often combined with other materials. We don't have enough space to go into details, but if you think of wood in constructions as a material to build structures, you are really missing the latest innovations in this field.
Plenty of news and products also in hall B4, the sanctuary of doors and windows, with a touch of hardware, especially decorative components (knobs and handles). Also in this area, developments are tangible and we noticed that doors are clearly moving towards "tactile and textured" surfaces, or even minimalist design models made of wonderful, poetic recycled wood! Such a big review that you could get lost…
Little technology could be seen, instead, but that's nothing new: only Weinmann of Homag Group, unless we missed something, took the opportunity to show their solutions in a video.
ITALY
"We are very satisfied with the results of the exhibition on the Italian side", said Davide Galli, general manager of Monacofiere, which represents Messe München in Italy.. "We have seen a significant increase of visitors also from Italy, proving that Bau is a key date for our operators, combined with an increasing number of Italian exhibitors: this year we had 112 direct exhibitors, a few more than 106 two years ago. On the whole, they covered a large surface, just below five thousand square meters, investing more than in the past in big, attractive and well-designed stands.
The favorite product category for Italian exhibitors at Bau is definitely natural materials and stones: a collective pavilion organized in collaboration with Ice doubled its area compared to two years ago, featuring stands with an impressive visual impact.
"The wood industry –Galli continued – once again had to pay the price for deciding too late: registrations for the January 2019 edition are closing next September, in few months. It seems impossible to convince an Italian company to decide in due time to exhibit in Munich, as they are accustomed to much more flexible deadlines… But Bau is different: the waiting list is always very long, deadlines are fixed, and in the end we have to reject many applications. This year we could not accept 25 percent of applications, because they came in when all spaces had been assigned".
We have a feeling, getting stronger every year, that Italian cannot really grasp the relevance of Bau, the community that visits the exhibition, the quality it offers. It looks as if they cannot fit this event into their "exhibition vision".
"We have to say that in Italy there are many exhibitions where Italian companies are participating, plus several dedicated events for constructions, doors and windows, or timber roofs, that fill up the German and international calendar. In such a crowded scenario, it can be difficult to understand the real value of a "multi-product" exhibition like Bau, without forgetting that it is a huge exhibition, where you need an adequate stand to be visible. We will see what happens in 2019, when we have almost twenty thousand square meters more in two new halls, C5 and C6, that will be completed before the next date. We hope there will be more opportunities for the wood and window industry for potential Italian exhibitors.
And then we have "Fenestration Bau China", another option to expand our collaboration with Italian companies, offering them valuable opportunities in China!", Davide Galli concluded. (l.r.)
A big Bau, as usual…
ultima modifica:
2017-02-20T00:00:00+00:00
da