It is really exciting to be surrounded with sofas, cushions, wood, fabrics, padding and panels that are gradually transformed into hundreds of sofas, all different from each other. Competence, experience, technology, organization. These are the pillars of Atl Group in Imola.
A few years later, we went back to Faenza to see the latest technology investments by Atl Group for their industrial site. And while we knew what we could expect, it was a pleasure to walk around this huge facility entirely dedicated to the production of sofas. There are few organizations like this. Just below 600 employees, 88 million euro revenues and three production sites: besides 45 thousand square meters in Faenza, there are 10 thousand more in Bertinoro, hosting high-end production, and just as many in Forlì, where some warehouses are located together with the operating headquarters of Cipes, the polyurethane cutting cooperative company where this "upholstered furniture empire" started from forty years ago.
"The best place to make your sofas" is the claim that clearly states what it is all about: Atl Group manufactures upholstered furniture for the leading Italian brands (and other customers), sofas and armchairs that will be sold with high-sounding brands. The huge Faenza site is home to the entire production of what is possibly the most popular (on television) retail brand in the sofa business, a business model based on big volumes that allow to offer good quality at affordable prices. This is where polyurethane and fabrics are cut, this is where products are stitched, dressed, packages. In a big workshop, wood strips and profiles are processed, and most of all, thousands of particleboard and multilayer panels are cut, shaped and routed.
"Production has increased since the last time you've been here", said Claudio Benini, general manager in charge for production, logistics and IT management. "Now we are making more than 1,300 sofas per day including all group members: at the end of each day, we deliver approximately 300 "white bodies", ready to be dressed with the final upholstery to create at least thirty different models. It's easy to understand what the big challenge is: you need a perfect organization so that all the necessary parts and elements are readily available to be assembled on our production line. It is essential to be flexible, to have suitable technology, even if we try to organize the production of semifinished materials in small intermediate buffers, so that we never have to stop: when you handle such big quantities and variety, you cannot work with large stocks and you must select suitable plants and machines to work "just in time" as much as you can".
In the past few years, the number of "white bodies" produced every day has increased, but the real challenge is the complexity behind these figures: processing time has increased exponentially, as the demand of more "complicated" sofas with sophisticated shapes has also increased. The type of products we make lead us to invest in more performing and flexible technology to handle a volume of orders that has increased by approximately 30 percent".
"With such volumes – Benini added – it is not easy to manage production and you have to consider effectiveness in the first place, knowing that the final result is strongly affected by efficiency. And as I said before, variability is the most critical factor rather than volume, because for each new sofa you find in a store, we must design, cut strips, profiles, shapes, make cushions, upholstery and fabrics, all different from each other.
We are subcontractors, excellent subcontractors: the market demands ever different models, and as a result, our portfolio can only expand. Our job is to supply furniture makers and retail with the products they need, possibly adding enhancements based on our longstanding experience".

Atl Group is a loyal customer of Scm for the machines of their workshop, with two new entries added recently: a brand new angular panel saw "gabbiani a2" and a machining center "accord 40 nst" in a nesting cell version, specifically designed for the production of parts for sofa frames.
"With the new "accord" we can expand our nesting capacity, making it much smoother than before", Benini said. "We can machine large panels using two heads simultaneously, so as to produce different elements or double productivity, also thanks to the high speeds achieved by this machining center. Compared to other Scm centers we have, we required a different configuration for this nesting cell, featuring an outlet station halfway along the machine, a buffer that helps us manage the workflow better. We requested a few modifications to the loading section – to handle smaller parts easily, quite useful when working with multilayer panels – and to the unloading station, where we added another buffer to reduce "pressure" on the cut parts picking station, which can be very busy, without adding labor.
Speed and productivity are so high that the company had to install a double belt at the outlet, so that the operator can pick the finished part while the machines keeps working unattended in the intermediate stations. This center offers higher performance compared to the past, as a result of high speed and, most of all, a different handling concept, optimized trajectories, and the capacity to machine three panels in a stack. This is definitely a flexible and powerful cell".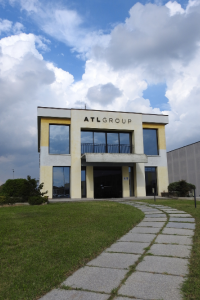 You have also invested in "traditional" panel sawing…
"That's the fourth "gabbiani" panel saw acquired by Atl Group. We have selected an angular model designed for a more flexible and optimized production of semifinished materials, namely components for sofa frames, offering the best tradeoff between small batches and fragmented production. We cannot really work with a "batch one" approach, cutting the parts for each model, although this new "gabbiani a2" is flexible enough and, most of all, very fast when cutting and handling panels; these features have helped us increase productivity in this process stage by 30 percent.
The machine is versatile and powerful, and it supports our way of working: we used to be always short of time, now the production of most semifinished materials is executed with great efficiency and safe margins, which is very important for a tight schedule like we have.
Don't forget that we are talking about a machine that can process several panels in a stack, to make parts that then will be assembled to make the frame of upholstered furniture, combined with polyurethane, steel, rubber parts… Accuracy is a value we cannot give up, and this new angular panel saw is accurate.
Let's say it is an extension of nesting, or if you prefer, nesting is an extension of sawing: both are essential operations to prepare all the necessary elements from a panel and we use them as needed: we can produce square parts only, shaped or routed parts, or perform any other operation to achieve a finished element, ready to be assembled. It's two different ways to achieve basically the same result, of course with different cycle time and scraps…".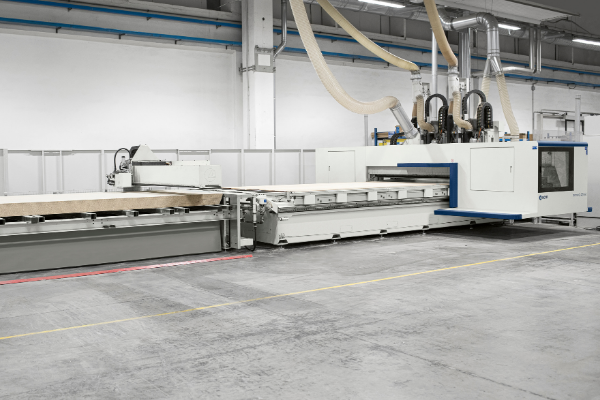 So, you are satisfied…
"We have longstanding collaboration with Scm: almost all our machines bear their brand. Such collaboration is based on product knowledge and quality, and most of all on service, which is a key factor for a company like ours".
 by Luca Rossetti
ANGULAR PANEL SAW "GABBIANI A2"
The "gabbiani a2" panel saw at Atl Group has maximum 125-millimeter blade protrusion and it is equipped with the new "Saw set" automatic tool changer, motor-driven side aligning bars and an automatic panel labeling system mounted on the pushing bar upstream the cutting stage. The "Flexcut 1D" device can execute complex cutting patterns in very short time, while "Zero dust system" ensures a clean working area by means of a set of automatic sectional gates that are operated to capture dust and perform effective suction.

"ACCORD 40 NST" NESTING CENTER
The "accord 40 nst" is a tailor-made design for Atl Group, a highly customizable cell that offers high productivity with high-level automation.
The cell can process three panels simultaneously thanks to an exclusive pushing bar installed at the inlet, which can load up to three panels, and two independent parallel operating units, each equipped with a drilling head and a high-capacity power spindle. The dual outlet belt optimizes the handling of outgoing processed parts, matching the high speed of machining operations: as a result, the operator can pick a finished part while the machine keeps working unattended in the intermediate stations.
Scm-Atl Group collaboration: proven partnership
ultima modifica:
2021-03-02T07:00:30+00:00
da