A new machine and a new award. Makor's performance at Xylexpo 2022 was really positive, with excellent feedback from visitors and the preview of "Excellent CM80", the latest prototype designed in Sinalunga, few kilometers from Siena, winner of the Xylexpo Innovation Award in the finishing category.
It was a great opportunity to interview Carlo Dolciami, sales manager at Makor, who illustrated the key features of the new spraying machine and gave us an update on the activity of the Tuscany-based group.
"We designed the new "Excellent CM80" to meet the demands of the market and our customers", Carlo Dolciami said. "We aimed at developing a solution that offers very high quality and optimized machining operations, further improving efficiency while reducing waste and environmental impact. It was a tough challenge, but we really believe we have achieved a great result".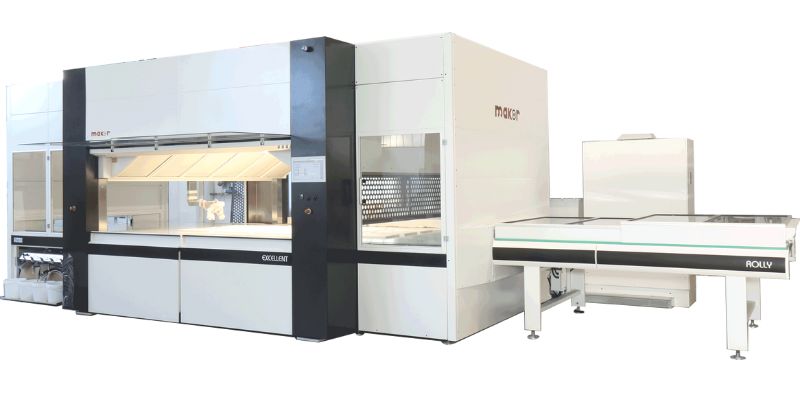 What's the biggest news?
"This new solution offers increased performance, and in detail, it allows to execute more intensive operations with its belt up to 2.5 meter wide. The different motion of the oscillating arms, combined with the new filtration system – located below the level of the worktable and larger – preserves the products from all impurities, from overspray buildup to fine dust.
This concept offers great benefits for production and also for sustainability, a keyword that is becoming more and more important.
"Excellent CM80" ensures high safety standards (the machine is provided with a new spark detection system, editor's note) and reduces emissions into the atmosphere: a benefit for product quality, but first of all for the health of workers".
"It took more than one year to design "Excellent CM80", he told us. "We did not just want to create a new machine that combined quality and sustainability, as mentioned, but we also wanted to develop a technology that would be easy to use and to maintain. This was the big challenge: creating a complex technology that was user-friendly at the same time. And let me tell you that we managed to do it.
The feedback we have got so far – he continued – is very positive. The customers who are using the machine are all very satisfied, and this has helped us bring a market-ready solution to the exhibition".
Talking about the market, what was the 2021-2022 period like?
"We must be honest: although the conditions were uncertain, due to the pandemic, the 2021-2022 period was an all-time best for Makor. Sure, we had to work hard to compensate for the problems that impacted everyone, such as difficult supplies, but we found multiple solutions.
First, we opted for planned provisioning, planning our orders largely in advance, and we also worked on our machines, both the mechanical part and the software, to be able to mount components from different vendors".
"Now we are going through a transition phase. The worst period, 2020, is behind us, but we know that the "bubble" we have been working in in the past two years will not last forever. With moderate optimism, we can say that we expected a complicated 2022, but the truth turned out to be different, nevertheless, at Makron, we are always cautiously optimistic. We stick to our philosophy of small steps, which has always distinguished us.
In the past two years, we have been investing a lot, leveraging the Industry 4.0 incentives for companies to update their fleet. Such accurate work will yield results in the short term and support our constant growth".
What are we going to see in the coming years?
"The near-term trends – Carlo Dolciami said – will not be focused on new types of finishing, but rather on the capacity to process less valuable materials, recycle wood, composites. The role of finishing and coating over the next years will be to ensure excellent quality on materials with lower quality. Our goal will be to deliver high finishing levels on any substrate".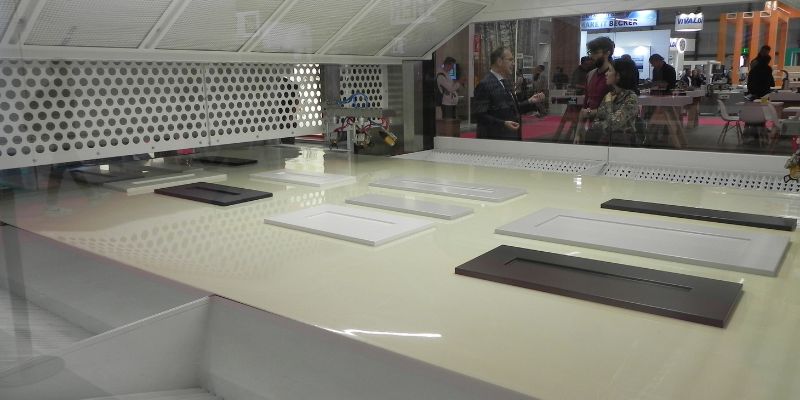 2022 was also the year of "back to trade fairs…"
"It's been a positive and long-awaited return. In the past two years, we have learned to leverage technology, digital tools, online meetings, but our industry still requires live contacts, we need to touch solutions with our hands.
Also in this case, we opted for a conservative approach, a gradual return to normal, maybe a smaller booth than we used to have, with fewer machines, but we believe it was the right decision in this transitory phase.
We have gone back to meeting in person, and this was the important thing".
by Francesco Inverso
makor.it
"Excellent CM80", Makor's new spraying machine
ultima modifica:
2023-01-23T14:39:28+00:00
da