It takes few words to describe the mission of one of the best known and most celebrated brands of Italian subcontracting, a real bridge between materials and creation, resulting from relentless evolution.
Recently, the company has reached another milestone: in late September, the Austrian giant Egger acquired a 27.5 share of stocks from Luciano Caspani and his children Roberto and Barbara, who had been the sole owners since last year. This is the final step of a transition announced one year ago, when the two companies officially started their collaboration.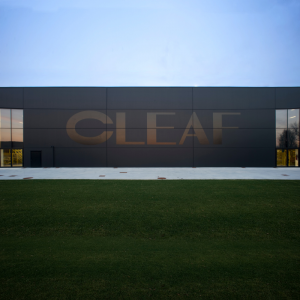 Twelve months later, we visited the Cleaf headquarters in Lissone and asked Roberto Caspani to tell us about this story. "Our business focus is the production of decors, surfaces that strike your attention, that meet the requirements of furniture and interiors designers and producers. We have an industrial vision, we have always produced semifinished materials, and there is no doubt that such vocation must be complemented with the values that a big partner like Egger can bring, also in the sales area. We share the same vision of "interior decoration system", where we can offer complementary products that fully respond to the demands of architects and resellers. And we are also positioned in different market segments, each with its peculiarities, history and references. We are both very active in contract and we know where and how we can collaborate with success".
This story tells a lot about the radical evolution of the semifinished materials business, and especially about the development of Cleaf, founded in 1975 by Luciano Caspani with his father Agostino and brother Fausto (Cleaf is actually the acronym of Caspani Luciano e Agostino Fausto). Luciano Caspani has the merit of being the soul of this industrial enterprise and taking the Caspani family's business activity to higher levels. Today, Cleaf generates 130 million euro revenues with 280 employees.
"In the past decade, we have been growing constantly in terms of revenues and staff", Roberto Caspani said. "We have four production units, relatively close to each other: the first one hosts presses for panel lamination, the second one is dedicated to the production of semifinished materials, with major investments in squaring-edgebanding lines in the past two years. The "C3" unit performs extrusion and other operations for the production of Abs edges, which have completely replaced wood; in the fourth unit, we have continuous presses for laminates.
So, Cleaf currently offers a full package: panels, laminates, edges and semifinished components – i.e. panels cut, edgebanded and drilled to customer specifications – in line with our philosophy of service to architects, industry and contract. We are not and we don't want to be a furniture factory, we have developed our concept of service and offered it to furniture manufacturers, gradually adding value to the work of grandpa Agostino!"
I cannot avoid asking you what the role of technology is.
"It's a key role. We are and we want to be an industrial company, a manufacturer in the first place, and investments in "tools" must be a priority, in quantity as well as in quality. We have always opted for German technology and a few years ago we started to collaborate with Ima, which is closer to our customization, quality and research approach. Our machines must be capable of performing "special" operations, being very flexible and contribute to the customization, absolute quality and constant innovation that are essential for Cleaf. Even for the best technology vendors, it is not easy to be part of a process that must result into the quality that the entire world acknowledges to our company, with a catalog including 600 decorative papers and 60 finishes, so potentially 36 thousand products… Within this huge portfolio, we position our products to meet the requirements of all types of customers, standing close to anyone who might need our decors.
The semifinished materials business has been growing strongly in the past few decades, responding to the needs of furniture manufacturers to optimize costs and launch synergies that also boost their business and offer new possibilities for their products. The result is a network of specialties, an exchange of information and expertise that can lead to new visions, confrontation, experience… this is actually what we are experiencing with Egger. Such trends are essential if you want to ride the wave of success. And there is still much room for creativity…".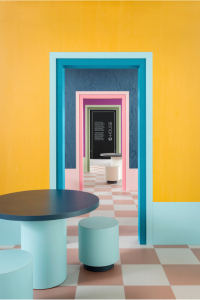 How have decors changed in these years?
"They have changed a lot. In the past, surfaces had to be glossy, colorful, different. Now the dominating trend is imitation, combined with the rise of materials like concrete, stone, metal…
A lot of work has been done around wood, creating panels and edges that really look like real wood, while providing architects with a standard and consistent material, always available, with no defects. We can say we offer what the eye wants to see: we supply stone, metal, wood, colors or any other texture, but these decorations are applied to a material, a panel or an edge that can be machined easily, cut to any size, in any quantity and with the best consistency; such requirements can hardly be met with natural materials, unless you accept very high costs, which are not affordable for everyone.
We can say that a big part of our job is to follow trends, just like apparel. When a maison launches a vision, many others will follow, the same happens with furniture. As soon as a famous architect starts using a specific wood species, a stone or a metal, all new pieces of furniture immediately take on the same visual impact".
 The furniture business has also changed radically…
"Over the past thirty years it has changed irreversibly: today we can make high-end furniture with "artificial" materials. And let me say that Cleaf is very good at this, we can perform very well, and being located in Brianza, in the middle of a production system recognized as the creative core of made-in-Italy furniture, we can leverage essential hints and spurs. The strong, intense, rich virtuous loop that involves demand, supply, possibilities, technologies, materials and distribution has driven our expansion and the growth of the entire furniture industry".
 What about tomorrow?
"Service will be the turning point, with increasingly customized production for architects and industry. Our products are already mature, but we want to develop new lines to offer new interpretations. Without forgetting that the world after the coronavirus will be totally different, it will be the outcome of a war that is still raging. We will have to adapt, change, offer different products and a different relationship to customers: there will be more interaction, as the tools we use to communicate enable continuous confrontation.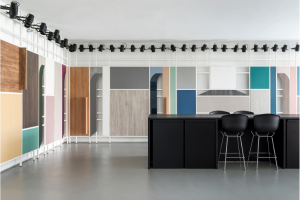 Products will also change, we will have "safer" surfaces, easy to clean and sanitize! One of the challenges will be raising the bar in these areas.
Companies will focus most of their effort to figure out what things might be like in five to ten years, and in this respect (going back to a previous concept), it is essential to debate and to have access to different information and experience. Our collaboration with Egger will help, as together we can have a totally different vision, because our responsibility is to know and to look ahead. At Cleaf, we believe that, ultimately, passion and heart are critical… and in the end, we are a family-owned company that is selling the product of its mind, the result of our readiness to listen and share, to invest and participate…".
by Luca Rossetti
Cleaf: surfaces for design
ultima modifica:
2020-11-10T08:00:43+00:00
da