The 2022 edition of Xylexpo is just around the corner. From 12 to 15 October, in fact, the biennial international exhibition for the furniture industry and woodworking will be staged in the usual location of Fieramilano. An edition that will be full of novelties (as we have told you in this in-depth report) and that will see the debut of "Xylexpo Digital", a channel (actually two, one in Italian and one in English) where from Wednesday 12 to Friday 14 October – from 10 a.m. to 4 p.m. – meetings, conversations, round tables, demos and visits to the stands will be broadcast (you can see it at this link: https://xylexpodigital2022.xylexpo.com/en/). It will be, most and foremost, a way for those who will not be in Milan to visit the exhibition, thanks to the crews that will walk along the aisles of the halls, following routes focused on specific technologies or topics. It will not be the same as being physically there, but for the first time, everyone will have the opportunity to move around, walk through the halls, take a closer look at a new product, listen to the opinion of an exhibitor or visitor…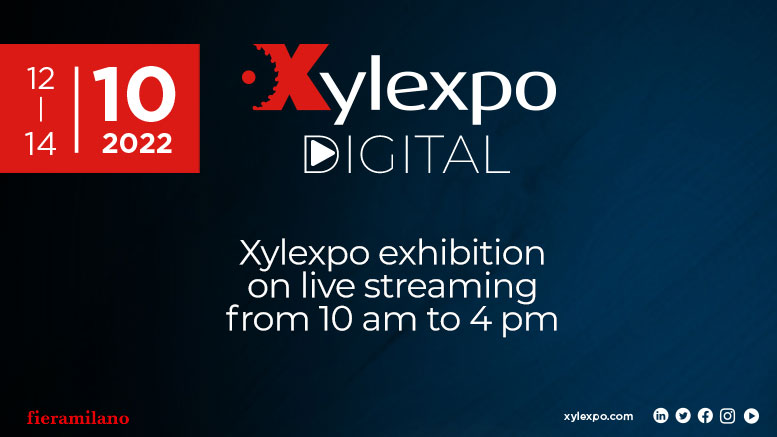 "We know that, just like any other exhibition in this period, we will have to face different numbers and new needs, starting from our digital exhibition initiative. "Xylexpo Digital" is a tangible proposal and will remain accessible also after the exhibition: our TV channel – explained Dario Corbetta, Xylexpo director – will not only allow to attend the "Xylexpo Arena" events and visit the stands of the exhibitors who joined the initiative, but it will also be accessible in the timeframe until the next edition, bridging the gap until Xylexpo 2024, with the possibility to upload additional contents and capture the attention of operators all over the world".
In short, all that remains is for us to wish you good viewing and to invite you to bookmark this link: https://xylexpodigital2022.xylexpo.com/en/
"Xylexpo Digital": Xylexpo exhibition on live streaming!
ultima modifica:
2022-10-05T17:13:45+00:00
da