Here in Friuli, the production of woodworking and metalworking tools is at home. It's not mere chance that Stark has conquered more and more markets with its production: since 1962, foundation year, the company has leveraged the skills and expertise of the industrial district as excellent tools to be leveraged on a global scale. We met Gianni Mussio, in charge for the sales network, a person with great experience, a popular manager in the industry, to celebrate sixty years of history and success.
"We prepared in time for this major anniversary", Mussio said. "We can call it second youth, resulting from an extensive renovation project launched a few years ago, that has brought a real evolution. The company made and is still making significant investments in new plants and human resources, to govern the development of a popular and important brand more and more efficiently and effectively, in the current scenario characterized by war and pandemic.
We have strengthened our vocation for the production of tools for wood, representing 40 percent of our revenues, as well as for metal, paper and tissue. We are operating in more than fifty countries, and we are proud to say that, wherever we go, from Italy to Africa, from Southeast Asia to Americas, the Stark brand is recognized as a synonym for quality and reliability.
Today, the Stark group has an aggregate turnover close to 20 million euro with 150 employees in the Trivignano headquarters and in the subsidiaries in China and Germany. In China we have a production site where we manufacture metalworking tools with operations strictly controlled by our staff, to obtain a "European-quality" product to be distributed in China and Southeast Asia. As to woodworking tools, our production is entirely "made in Italy", in our factory in Trivignano Udinese.
We arrived in Germany many years ago, establishing Stark Deutschland in the Seventies, and we are promoting Italian tools in a region where woodworking and metalworking certainly have a lot to say…
It is worth reminding that, besides Stark-branded products, we also sell significant volumes of tools around the world under customer-specific brands".
Can you illustrate your offer to the wood industry?
"First of all, let me tell you that a woodworking tool is more complicated than a metal cutting tool, because wood is alive, each species has its own features, and it must be processed taking into account the grain direction and even the weather, the seasons, the lunar phase, all factors that have an effect.
We have acquired longstanding experience in this sector, translated into a product line called "Basic Line", an assortment of products manufactured in huge volumes on four production lines, accounting for 50 percent of our revenues in this industry. These are everyday tools we supply to all major machinery manufacturers, and you can find in the closets of all users. A classic example is the router bit, designed for a ubiquitous machine in the woodworking industry. We have developed our tools to make them lighter, often using only aluminum, so that they are suitable for modern machines and a world that is progressively also involving bricolage. The destination market is really huge, the volumes are enormous, standardization rules and you must be able to offer a product for manual feed machines that is effective, safe, certified and with an aggressive pricing.
We have a big catalog for the "Industrial Line", tools for planing and finger-jointing. Our patented self-positioning cutter heads, called "Plannex", keep offering great satisfaction, just like the planer heads "Hydro", featuring our dual bushing system for play-free locking on the machine shaft. The locking system developed by Stark's engineers acts on both sides of the tool. We are a reference company for planer tools, these machines operate at high speeds and require total safety and quality.
Finger jointing is another "ace in the hole": the interchangeable knife system we have adopted for our cutter head "Jointex", designed in collaboration with the Trieste University, has opened up new opportunities to the manufacturers of solid wood windows or elements, compared to the old braze-welded tools. We use HSS steel knives coated in our "Pvd" (Phisical Vapor Deposition) ovens that use high-energy plasma to deposit a three-micron layer with mechanical properties four times better than traditional high-speed steel. No woodworking tool manufacturer has this technology, and this is an example of what we consider strategic for our future. Having such technology, the knowledge of the raw material we process, and all the latest techniques, allows is to develop tools that offer the best achievable result to our customers. "Jointex" is a highly engineered product, patented, featuring a self-positioning cutter-holding system that ensures the highest positioning accuracy combined with the shortest possible changeover time; such solutions are selected by those who look for top quality and maximum process speed".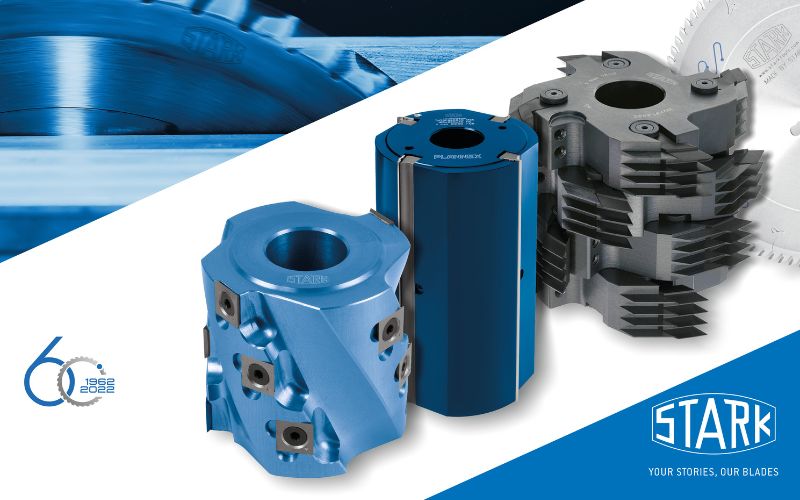 We know you have also designed solutions for panel processing…
"Yes, definitely, we might say that's the present for our sixtieth anniversary!", Mussio replied with a laugh. "Joking apart, we have increased our focus on panels as we are expanding our offer to meet growing demand in this segment, developing a comprehensive portfolio of tools that leverage our solid experience and a technology that is not available from all vendors, as I said before. Simply stated, I could say that we have taken the tools we have been manufacturing for sixty years and have adapted them to numerical control centers, which has been the dominant technology of the latest decades".
So, together, demand and supply create new scenarios…
"With no demand or new requirements, we would not need to invent new tools. Or, in other words, there is no supplier without customers. This also means you must be able to understand what the market demands and use this knowledge as an innovation driver. Stark's r&d unit works every day to see where the users are going, trying to figure out as early as possible if and how we must adapt our tools to new needs.
We believe that you don't need "big news" to change things, but rather the capacity of a product to adapt and meet the expectations of potential buyers. Let me tell you that our products have never caused complaints: first, because they are made by excellent staff, designers, engineers, technician and workers with strong expertise and professionalism, people working with passion, and also because we all see the great expectations for our products, and we realize it is our duty to meet them.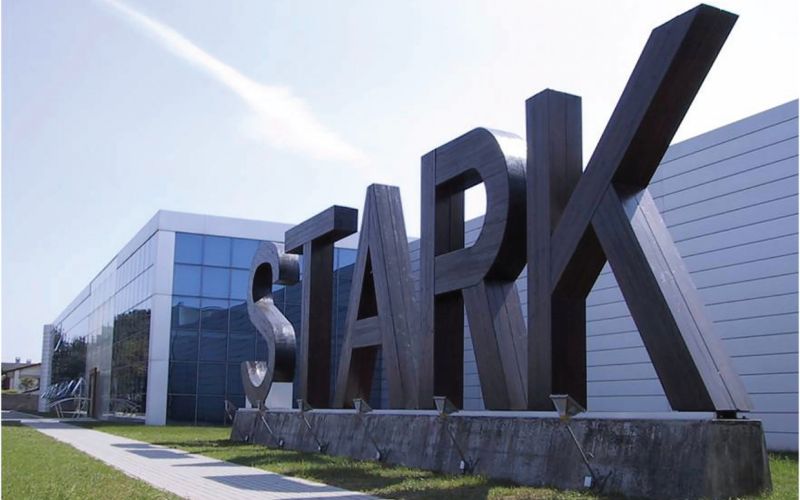 Over sixty years, Stark has built a strong reputation, that must be maintained and improved: this is the reason why customers decide to purchase Stark's products, because we have always been committed to providing a product that hits the target, meets customer expectations, and achieves specific goals.
We have never been running after amazing products, but we have always pursued all it takes to invent, design and produce useful and reliable products!".
What about the future?
"This is a key question: our story is made of business, investments, sharing, knowledge, experience, customer focus. These are our timeless values, that will support our mission in the future, as we strive for maximum customer satisfaction.
Today more than ever, we must be able to convey our values, so that they are known and appreciated all over the world. We have sixty years of history behind us, but we still have a lot to do and to say, and we want to deliver this message to everybody, with great strength and confidence".
by Luca Rossetti
starktools.com
Stark, for sixty years, tools known all around the world
ultima modifica:
2023-01-17T12:46:58+00:00
da