As far as we understand, very often companies rely on tools to perform functions beyond the transformation of wooden pieces, promoting or making clear decisions in terms of functionality, toughness, performance; a situation that many joiners are happy to rely on.
The upcoming Xylexpo will reveal the strong vocation of TWT from Rovereto, near Trento, in this specific sector, a company that has inherited a long story, a business vision that has led to the creation of a real group absorbing the experience, people, skills and stories of a few "big names" of Italian toolmaking.
In the stand in Hall 22, visitors will be able to see plenty of stories, technical solutions and innovations presented in a pleasant, as well as effective, way, thanks to partnerships with leading industry players not only in terms of volumes, activity in the global markets, know-how or revenues, but also because they make wonderful products, sometimes addressed to a market niche. Leveraging the TWT tools, these companies have opened new chapters of their story.
We discovered one of these stories in first person at the end of July, on a beautiful sunny day in Cortina: that's where we met Marco Di Mai, born 1968, better known in his village as "Lustro", and Roberto Zambelli, four years younger, aka "Nichelo". After all, Cortina, despite its fame and jet-set dwellers, is a mountain village, with the same habits and traditions as thousands of small villages in Italy, where people are known with their nicknames or their families', rather than with their registered name.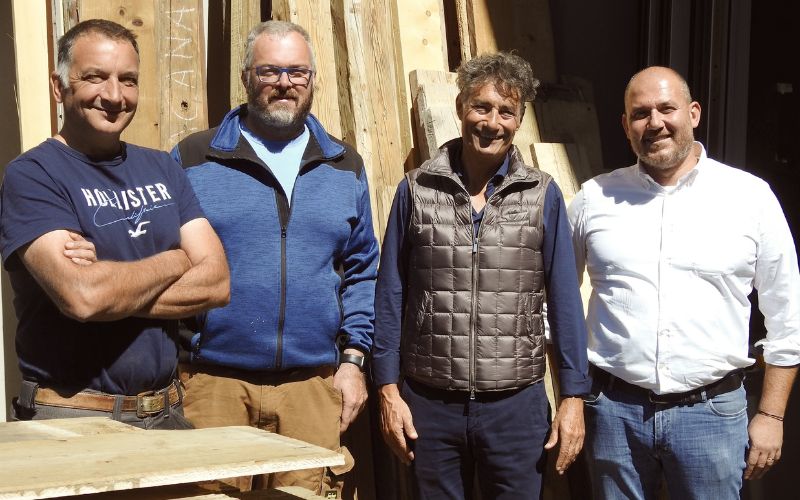 "We come from two different experiences – Marco Di Mai said – and we met because of an order submitted by an architect. We did a lot together, until we built two workshops, next to each other, only divided by a wall that we decided to tear down in 2018: that's when Wood Art was born.
By joining our forces, we could take on bigger orders, grow, invest in more advanced technology, purchase our first machining center. Little by little, we added items to our catalog, from furniture to flooring, from paneling to windows, up to matching fabrics, thanks to the support of our wives".
"We crowned our dream – Roberto Zambelli added – using recycled wood from old houses, stables, abandoned buildings, to make beautiful objects, to create unique environments, because each wood piece we use has its story, its identity, its character. The result is environments where each element, from the flooring to the window that frames our splendid Dolomite mountains, is an ensemble, creates a feeling, an atmosphere, a time that is exactly what our customers want".
Needless to say, this is "full-fledged furniture", really exclusive, very often accessible only to the typical Cortina dweller with no economic constraints, whose priority is to live surrounded by beauty. Great beauty…
Eighteen employees, revenues close to one million euro, customers mostly "driven" by architects. Their story started with furniture and has recently expanded into the window business, with some 200 windows manufactured annually using "measure-made" glulam timber provisioned by Wood Art from a small producer, then laminated with 5-mm-thick veneer from ancient wood bought from a network of accurately selected suppliers all over Italy, but also in Austria or Bavaria, wherever Di Mai and Zambelli see the opportunity to make something beautiful, inimitable.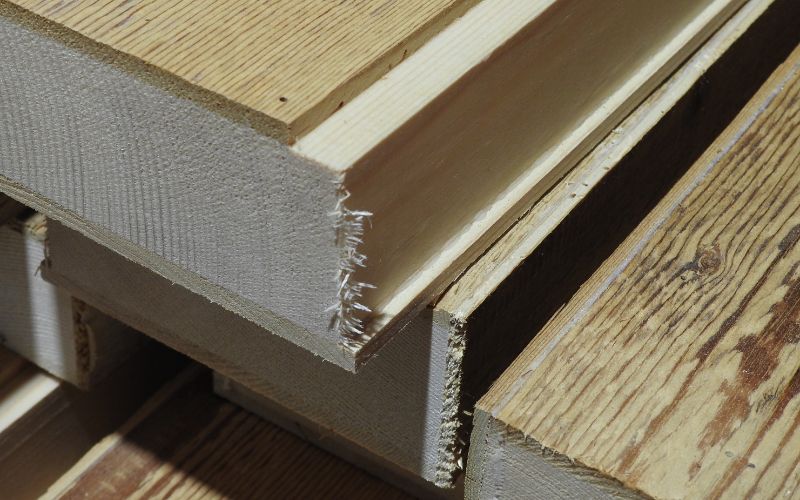 "We cut ancient wood on a band saw into 5-to-6-mm-thick laminations, which are then passed through a thickness sander to achieve wood planks that, with great patience, are combined by color and veneer before being glued onto the glulam timber", Marco Di Mai said. "Once ready, we "antique" this semifinished material, while keeping as intact as possible the stripes and cracks that the wood has taken up through many years, "flaming" the new wood, tinting it with first to achieve the color shades that this type of artifact must have.
And we never paint our products; the most we can do is apply protective products for bathroom and kitchen furniture, although we believe that a piece of wood that has survived for centuries cannot be damaged…
It's really a peculiar process, a different window we build with an accurate technique, using vinyl glues and top-quality materials ", Marco Di Mai said. "For our production, we have always relied on the collaboration with a specialist like TWT: with them we have equipped our machining center in an optimal way, creating parts machined on six faces that comply with our beauty standards and – once assembled – create windows with performance levels that meet the heat- and soundproofing coefficients prescribed by the regulations for mountain regions.
We are talking about a special window that requires the use of cutters to machine "new" and ancient wood concurrently".
"The challenge presented by Wood Art was not easy", added Filippo Pellitteri, general manager at TWT, who guided us on the tour. "We developed our "Esperia Innova" tools to ensure an ideal result for tools that not only had to be beautiful and inspited to the most elegant Alpine atmosphere, but also guarantee the best finishing, avoiding subsequent sanding passes, both on the glulam core and on the laminations. We succeeded to, experimenting and finding geometries and angles to achieve the best result. Our windows are perfectly tight and meet the performance standard of "F zones", the strictest regulations. Wood Art has also decided to use the same technology for the production of entrance gates, which will be the starts of our installation at Xylexpo.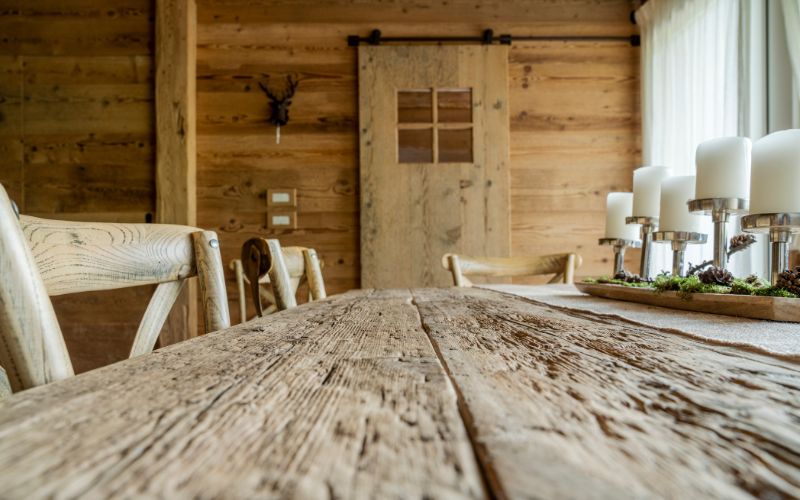 "This solution could only be found by a very experience toolmaker", Roberto Zambelli added. "Their experience has helped us find an answer to our way of working and considering the product, acting on machine speed, diameters, passes, until you make a window that is perfectly aligned with our story and our project.
We often work with highly valuable materials: I remember a house where we worked about one year ago, where each element, each piece of furniture, each detail was coated with antique wood, boards from the 17th century in the hall, a boiserie from the 18th century in the bathroom, or the renovation of a splendid Gothic ceiling dating back to 1800…
All of this using modern technology, without which we could not be so good and fast. We have learned to use these technologies and tools "in our own way", so to say, to lend quality to the structures and supports, while preserving an esthetic concept and leveraging conventional operations, taking care of each detail, the most delicate finishing".
You have chosen a complicated job…
"It's a job that requires great technology, extraordinary tools and most of all passion. It's an ongoing challenge: if we had not chosen the right tools, passion would not have been enough, and for sure, we would have never started to make windows!
Processing everything "in house", trying to execute all the stages internally means that we must acquire different skills, but we also have the advantage of managing the entire value chain of a product, checking quality from the beginning to the end. This is essential in a job like ours, where you don't just build furniture or rooms, but spaces that convey emotions, that represent the decisions and tastes of their dwellers. Our focus on details, the accurate selection of materials, the total quality that our production methods must enable us to achieve, are the reasons why customers choose us, a level of excellence that we want to find in our suppliers!
As we have always been involved in the production of high-end furniture, customized from all points of view, deciding to make windows means that we don't consider this element as a "filler" for a wall, but rather a focal point, an opening to perceive and admire one of the world's most beautiful landscapes, like the frame of a painting…".
 by Luca Rossetti
Hall 22, booth E08
woodartcortina.com
twt.tools
---
TWT AT XYLEXPO
Plenty of news from TWT in Milan. First, the multipurpose cylindrical insert"Foil RS", a European patent-pending product made of solid widia, designed to be installed on tools with high cutting speeds (such as "Laser.S" and "Laser.HP" by TWT, also exhibited at Xylexpo) to replace up to three different processing applications carried out using radius knives, groovers and spurs.
In a dedicated section, TWT will present the new evolution of the "Esperia" project, developed in collaboration with Europrofili and Roverplastik, which sets a new standard in the installation of wood-aluminum windows, while offering performance and design.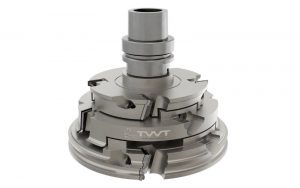 This will be the occasion for presenting for the first time ever the wooden front door systems "Esperia W0" and "Esperia W9", developed together with CCE, offering excellent performance not only as regards air, water and wind tightness, but also in terms of security, giving carpenters the chance to offer a design alternative to classical armoured doors.
Finally, "Laser.HP (High Performance)" is an innovative tools design and manufactured to meet the highest productivity, finishing and durability standards on machining centers, offering higher cutting speeds, longer life, improved chip and dust extraction, and shorter setup times.
Twt: tools are the focal point!
ultima modifica:
2022-10-04T18:56:16+00:00
da