We have always been fascinated by Albricci's commitment to push the machines listed in their catalog to the Italian market. Strong and practical intermediation, with a proactive approach and the capacity to stimulate the market with new tools.
It's a long time since we wanted to take a closer look at Albricci, based in Cesano Maderno, halfway between Como and Milan, a company that presents itself as "supplier of woodworking machinery" on its home page. Good for us to avoid any embarrassment, as this reseller/importer often acts like a real manufacturer, deploying methods and initiatives that old and new customers appreciate.
When they submitted their entry for this Focus on Finishing, we were surprised ("…how does a reseller fit into this context?", we wondered), but we soon realized that we were completely wrong. We were helped by Stefano Zaniboni, who joined the company twenty-two years ago to coordinate after-sales service with a new ad-hoc software package, and little by little conquered the trust and esteem of the owners, climbing up to the role of general manager.
Today, Albricci has approximately forty employees, revenues close to 13 million euro, and is preparing to celebrate its fortieth anniversary since 1984, when Mario Albricci, still sitting in the driver's seat, decided to create this company.
It's a success story closely knit with the events of the Brianza furniture district, a story that began when Mario Albricci became the Italian importer of Altendorf Maschinenbau, a leading German manufacturer of panel saws, to address a potentially much bigger user base.
With their heart in Brianza and their head all over Italy, Albricci progressively added several brands to its portfolio, closing import or agency agreements for machines, tools, equipment and consumption materials.
It didn't take long before the "import package" was complemented with the vertical saws from the Swiss manufacturer Striebig and then the edgebanding machines by Ott Paul (Germany), the drilling, assembling and glue/dowel inserting solutions by Gannomat (Austria), and more recently, the sanding machines from the German vendor Weber, which are the reason why Albricci is featured on these pages.
"We have always been true to our story – said Stefano Zaniboni – focusing on one-product manufacturers, highly specialized, from Germany, Austria and Switzerland. We are atypical "intermediaries" in the wood industry: our business revolves around the relationships with our customers, the determination to understand where they are going and how we can support them most effectively. And if this means that we must act as resellers or importers, this is not a problem.
We have learned to take the responsibility to meet the budgets defined with our import partners, to approach the Italian market from which we have learned a lot, to attend exhibitions like Xylexpo with our own stand, to be strongly attractive in terms of communications and marketing. We can take care of everything needed to work in a demanding market like Brianza, which remains our territory of reference, although we have just below 4 thousand installations all over Italy considering only Striebig and Altendorf: we support anyone who relies on us to solve a problem, we submit a solution and, if everything fits, we deliver a machine, we take care of the installation and after-sales service, assistance and spare parts, thanks to a well-furnished warehouse".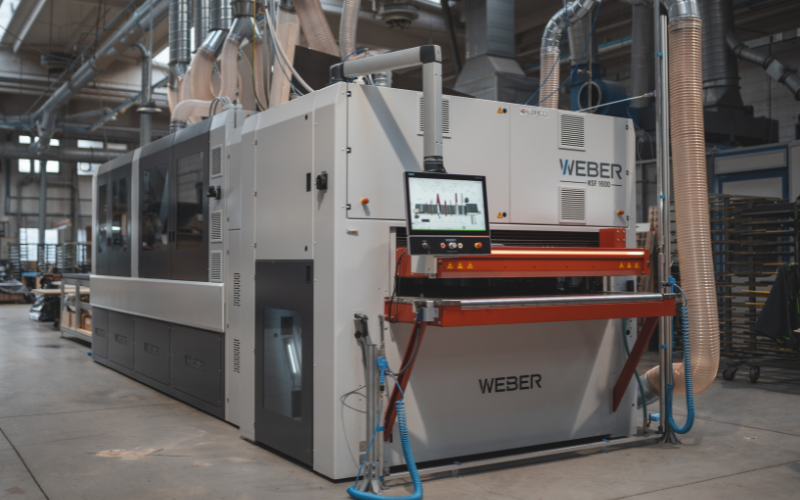 "Not only: i really believe that a business like ours, deeply rooted into its territory while operating nationwide, must pursue a goal of making culture, without being arrogant, but offering its contribution to reconsider the daily business of those who process wood and wood-based materials according to certain "traditions", and what should be done to move beyond… These are topics we have always promoted, in collaboration with training institutes all over our territory, inviting experts to many events we organize in our headquarters".
And more generally speaking?
"Today, you cannot be competitive with just a good lineup of machines; you must optimize every step, every phase, hence the increasing demand cad-cam software to narrow the gap between design and production, or really effective drilling-inserting machines or handling equipment. Furthermore, you must look for and find jobs and orders, which requires to increase your sales and marketing skills. You must be proactive, cultivate relations, create synergies: that's the only way for small and medium businesses to handle big orders and short deadlines, exchanging and sharing expertise and technology.
The same is true for us: we must look closely to these developments; a few years ago, just to make an example, we were among the first to offer laser technology for cutting and marking".
WEBER
"With this philosophy and "curiosity", in 2010 we met Weber, a German company with a 100-year story in wood and metal sanding and calibration. In recent years, they have created two business branches in the plastic extrusion and additive manufacturing space, plus automation.
We met, we knew each other, and we defined a common path; as Albricci, we contributed to exploring the possibility to configure a product offer that could be really interesting for the Italian market, where finishing solutions are not difficult to find.
We were fascinated by this challenge from the very start, and in the past five-six years, we have reached a significant number of installations in Italy.
Weber has very interesting patents, they have research and innovation in their dna, and great attention to details. Their catalog addressed the high end of market demand, with the reliability and productivity standards typical of big plants operating around the clock.
Together, we identified the most suitable solutions for Albricci's target, machines that don't need to work on multiple shifts, but must meet the requirements of a portion of handicraft businesses and small enterprises looking for top-quality finishing, the high end of this specific segment.
Weber's machines have patented systems for pad control on the cross and longitudinal belts, ensuring widely recognized quality in planarity and finishing. The "CBF" aggregate is also highly appreciated, a multilayer belt incorporated into the longitudinal belt, representing an enhancement of the concept of the so-called "superfinishing" belts. Weber's sanding solutions – including cross and longitudinal belts, planetary brushing heads and rusticating units – is giving great satisfaction and enables us to solve all kinds of needs, from raw part and veneer sanding to all the coating stages. For us, it was an opportunity to approach the subcontracting sector, with plenty of coating and painting companies that are very interesting.
I would also stress the fact that a good sanding machine has an average life up to twenty years, which supports strong customer loyalty: if you know a supplier for a long time and the relationship is successful, you prefer not to change, and this does not help us approach new customers".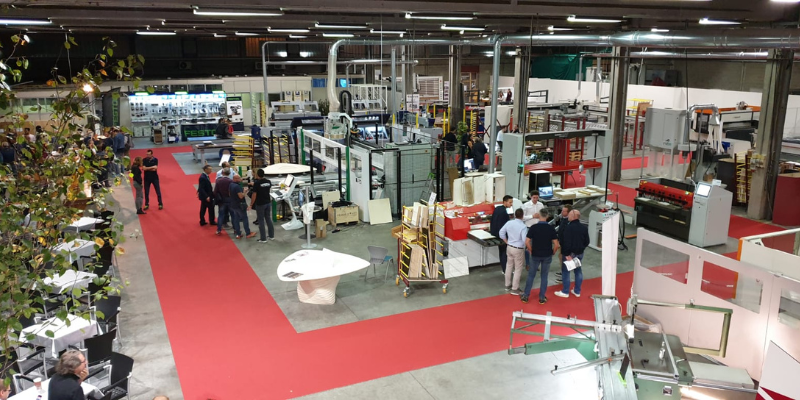 COLOMBO ARMANDO
"When we find a curious entrepreneur, open to change, interested in new discoveries, it's much easier to create new business relations. That's what happened with Colombo Amando in Meda, one of the historical capitals of "made in Brianza" furniture; this company is a custom furniture subcontractor that works for the top brands of design furniture. A few months ago, we installed a sanding machine that represents the state of the art of Weber, replacing a line of two sanding machines with one unit only equipped with nine different aggregates – allowing to sand upper and lower faces, which was not possible with the old line – including three cross-belt units, a longitudinal "CBF" aggregate, planetary head with pads and brushes of Tynex for pore-opening operations.
This machine is giving great satisfaction to Colombo Armando and ourselves, proving that there are still margins for improvement also in sanding: we must deal with coating products and substrates that keep evolving, and users are constantly searching for new possibilities, looking for sanding machines that can perform additional functions beyond conventional operations. This request has led to a solution designed by Weber to achieve special décor effects, besides sanding and thicknessing; it's not about sculpting, rusticating or sawing effects, it's about the belts acting in specific surface areas to remove previously applied coatings and achieve peculiar decoration effects, more or less repetitive".
"The prospects for the partnership with Weber are very promising", concluded Stefano Zaniboni. "The installations we have already finalized in Brianza, Triveneto and the Pesaro area are proving the effectiveness of this solution, and we are recording growing interest also among industrial companies, not only in our traditional market segment. We are receiving requests from several resellers, too, who are interested in a partnership in their territories… we are on the right way!".
by Luca Rossetti
Albricci, being resellers in a different way
ultima modifica:
2023-03-20T16:21:31+00:00
da