"It was really a difficult situation and the seriousness of which we have become really aware week by week, in the last period I would say almost day by day…
Carlo Dolciami
sales manager MAKOR (Sinalunga, Siena)
www.makor.it
How are you reacting to this emergency?
"It was really a difficult situation and the seriousness of which we have become really aware week by week, in the last period I would say almost day by day. Makor acted promptly by implementing procedures to ensure the health of employees and those who interact with the company. A very intense acti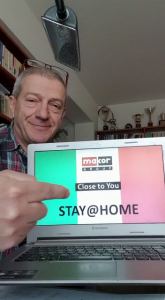 vity was that of teleconferencing with our customers (especially overseas), for the demonstrations of operation of machines in pre-shipment acceptance or demonstrations of finishing processes performed in our test lab. The activity with our sales network and our customers has shifted to remote connections, also in consideration of the postponement/cancellation news of the various international fairs in our sector, which represent a fundamental meeting point for our professional work. Likewise, there has been a significant increase in remote support activities for technicians from our dealers around the world, with whom we have been able to continue the various installations in the best possible way. Makor reacted promptly, and that is what we will continue to do, aware that all crises end and that each offers opportunities".
What do you think is changing or will change radically?
"Surely there will remain an attention to health problems and how to keep it much stronger than before. I think (and I hope) that we will not forget the lesson given by this emergency. For our companies, a more modern- leaner organization of work will remain positive: the use of smart working and even more working in safety will remain as positive legacies of these days".
What should the authorities and all of us do?
"Continue to comply with the directions for the containment of the disease without letting go after the first positive news, but at the same time establishing behavioral guidelines for work in companies, in order to resume activities as soon as possible. To move the market and become competitive with respect to our foreign competitors, the time factor is crucial. In properly combining these two needs, which if we want to can live together very well, is the challenge that we must all take".
CONTRIBUTION 25 – Makor
ultima modifica:
2020-04-17T13:13:23+00:00
da