Innovation in Rimini is not just a word, but a real mantra. This is demonstrated by the investments put in place (and planned) and the many innovations that SCM has proposed in this "long hot summer". From edgebanding to finishing, here are the novelties proposed by the group…
It was a "hot" summer for SCM. The Rimini group has introduced several technological innovations dedicated to different application areas in the second processing of wood. Such product launches are the result of consistent and continuous investments in research and development, even in a difficult year at international level, such as 2020, which have resulted in a 20 percent increase in new R&D projects.
This choice is the result of a long-term project that will lead the Rimini group to an investment program of 100 million euros for the four-year period 2021-2024.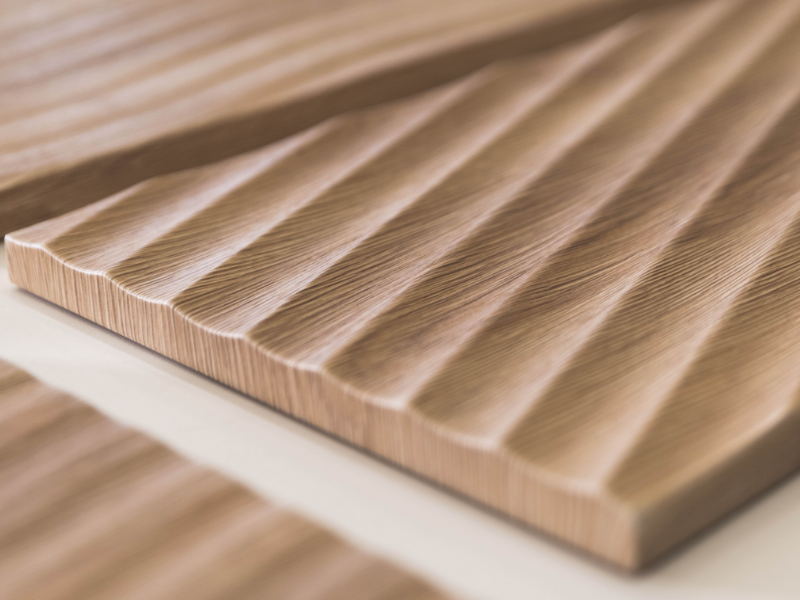 HIGH-END EDGEBANDING: NEW HEIGHTS FOR THE ELECTRONIC TOUCH
For high-end edgebanding dedicated to the latest trends in furniture and design, the SCM novelties revolve around the electronic touch. These are the new frontiers of electronics applied to the latest generation SCM edgebanding and edgebanding machines, for a flexible and high-quality production. From the production facility in Thiene (Vicenza), for seventy years a technological center of excellence with its wide range of "stefani" and "olimpic" solutions for edgebanding, the Business Manager Fabio Cernoia illustrated the main objectives of this project. "Impeccable finishing quality from the first to the last panel, continuous machining changes, set up and processing speed, completely new devices for a perfect application of glue… These are the new horizons to focus on thanks to Electronic Touch – Cernoia said – and SCM's exclusive technological innovations point into this direction".
The new range of high-end electronic units is a synergic and exclusive mix of technological innovations designed to meet two objectives that are key to the market: ease of use, even for more complex machining on delicate, trending materials, thanks to an automatic, flexible set-up; and repeatability, quality and precision of the production processes thanks to the electronic touch. The Y-SE 1000 Servo and Y-SE 1200 Servo end trimming units provide constant precision when cutting, regardless of the amount and kind of panels machined, optimize machining work even on the most delicate panels, and automatically control adjustments and correct any machining errors on the spot. The "Round 2 Servo" rounding unit was designed to ensure top quality machining on any profile and optimize the processes even on three different edge thicknesses. The "RC-E Multileaf" glue scraping unit is ideal for machining panels with film and softforming thanks to the automatic tool adjustment for endless film thicknesses.
With the new "easy cart" device, controlling and preserving the polyurethane glue has never been easier.
Polyurethane glue is increasingly becoming the ideal gluing solution thanks to its low-emission glue. However, there are still wide margins of improvement to manage and preserve this glue over time. The new "easy cart" combined with SCM squaring and edgebanding machines, guarantees excellent, simple and safe management of all the operations for cleaning, maintenance and controlled programmed preheating of the glue tanks, as well as the polyurethane glue lasting longer over time.
SCM NEWS FOR CLICK FURNITURE
A fast expanding trend throughout the world, thanks also to increased on-line sales for which SCM has developed specific technology, is furniture kits and the Threespine® click furniture technology patented by Välinge Innovation.
A system that dramatically changes the manufacturing philosophy and assembly time in the furniture kits sector, for a compatible, practical and highly attractive, sustainable design within everyone's reach. Focusing on the latest trends and the new incredible scenarios opened up with this technology, SCM has invested in the development of leading-edge solutions for the processing of "click panels": this is where the technology by "celaschi" comes into play, supported by decades of experience in the design and production of machinery and systems for profiling, squaring and tenoning.
SCM's latest new solution to the industry include a "celaschi" line and a standalone "celaschi" double-end tenoner to process the main panels and the shelves of a box. The line consists of a "celaschi sp" longitudinal single-sided profiling machine, a panel-turning system and a "celaschi p60" transversal profiling machine. It has been designed to profile panels previously squared and edgebanded, that will become the horizontal and vertical elements of the box.
The "celaschi p40" also plays a key role, configured with 6 motors dedicated to edgebanding and profiling the back panels in just two steps.
Other SCM technologies for this application sector were also presented. The 5-axis CNC machining centers, in standalone version or integrated into automatic lines, like the morbidelli m100 and m200 "All-In-One Technology" solutions, are ideal for the production of click panels in any shape with the utmost ease-of-use and quality; the sizing edge banders, both stand alone and integrated into automatic lines, like the stefani sb, allowing to simultaneously edgebanding and profiling of all the click furniture elements
"The partnership between SCM and Välinge Innovation is a guarantee of excellent panel machining, that will allow even a non-professional user to assemble the piece of furniture perfectly," said Gian Luca Giovanardi, SCM Business Unit Manager Double-end Tenoners Celaschi. "The combination of SCM technological innovation and Threespine® opens up new and numerous design opportunities in the world of furniture, in line with the most current market trends. The panels can be of different materials and connected in different shapes or even with corners to suit your needs, depending on the designer or manufacturer's imagination. Furthermore, the lack of hardware ensures a design that is always essential and top quality".
FINISHING: NEWS FROM SUPERFICI FOR ECO-SUSTAINABLE AND AMAZING FINISHING
The latest trends in painting were illustrated by SCM through the Superfici brand, the group's flower in the buttonhole for finishing. One of the highlights at the Technology Center Superfici in Villasanta (Monza) was the new Compact XL sprayer that encompasses elements of value in line with the most modern, essential production requirements: focus on the environment and increased efficiency thanks to particular energy saving devices to reduce air and water volumes needed for ventilation and cleaning; cleaning times reduced to a minimum, thanks to automatic change filters and a fast cleaning system for the paint recovery unit; an even simpler, more integrated use with other SCM group technologies thanks to the new Maestro Active Finishing software control.
The panels painted with Compact XL will then be treated with the innovative excimer UV Excimatt technology, for a super-opaque finish with incomparable surface resistance.
Indeed, Excimatt allows for a mechanical micro-texturing to be achieved on the layer of paint applied. This replaces the opaqueness achieved using chemical additives, that would normally reduce the scratch resistance on the final painted surface. This technology offers excellent efficiency when treating flat, uneven surfaces and edges, thanks to the specific Superfici devices for a three-dimensional irradiation. Excimatt can be applied in roller lines or in thin layers for flat surface painting, and in spray lines to finish the edges and surfaces even of shaped panels.
According to Gloria Valtorta, Business Unit Manager at Superfici: "It's an important challenge because it's about aspect, your first impression when you see a piece of furniture, a door, a window. Continuous investments in R&D and the know-how of our experts, in close synergy with other SCM technology for surface finishing, have enabled us to design and develop tailored solutions that can offer exclusive and bespoke effects".
PANEL SIZING: UTMOST PERFORMANCE FITTING INTO ANY SPACE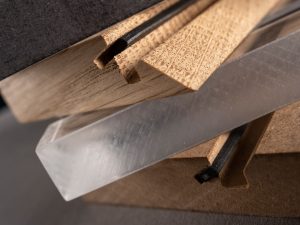 The review of SCM news for panel processing closes with a mention to the new vertical panel saws "gabbiani v – vs – vsi". SCM has developed a full range of models, entirely "made in Italy", to meet different configuration and production requirements. The portfolio offers several benefits: reduction of footprint in the factory thanks to functional and compact solutions, without compromising on high cutting performance; increased power and operating life thanks to the special electrowelded frame; high versatility in the setup and cutting of different types of wood-based materials (plywood, laminates, solid wood); possibility to cut one or more panels simultaneously, with consistent accuracy.
The news from Superfici add up with more innovation from the group in the pressing and sanding area of SCM Surface Technologies. The innovative pressing solutions by "sergiani" are ideal for the lamination of panels with 3D surfaces. In detail, the "sergiani 3d form" and "sergiani 3d form hp" presses meet all production requirements, from manual single-tray versions up to automated models with three trays to maximize productivity by reducing cycle time to the pressing time only. This can be achieved both with delicate coatings (high gloss) and with complex 3D shapes, delivering incomparable product quality. Another highlight is "sergiani gsl-a" for continuous edge glued beam panels production, with automatic loading/unloading, offering high flexibility and productivity. Highly configurable to customer requirements, it offers several solutions to load the edge glued panels and possibility to add pneumatic stops to compose multi-row panels.

More news from "dmc" for sanding, with easy-to-use high-productivity solutions that respond to the specific needs of each customer, meeting the demand for high-quality surfaces and enhanced user experience in production cycles. The highlight in this area is the new control panel "eye-S" of the "dmc sd" machines, that will replace the electronic panels "Logic Sc" and "Pro-Sand" starting from January 2022. Another new feature is the planetary unit on "dmc euro system", ideal for all types of finishing. Finally, the hand scraping unit installed on high-end "dmc system" sanders is able to reproduce sophisticated 3D effects.
SCM news for all sectors
ultima modifica:
2021-11-09T16:17:14+00:00
da